Panna Cotta is originally from Italy, but has spread its wings and you see it on menus and at dinner parties all over the world. Traditionally Panna Cotta is made with simple Vanilla, but for some extra elegance I made mine with Buttermilk and Blackberries.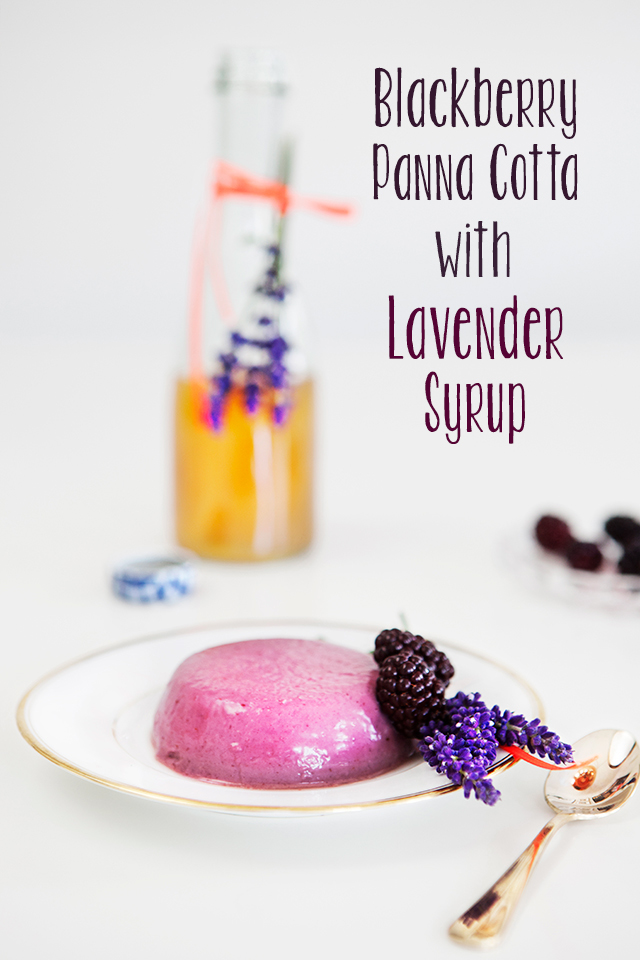 Blackberries have always been quite exotic to me since they do not grow in Iceland where I grew up. I only saw them in foreign children's books and movies, and I was probably 20 years old when I tasted my first blackberry!
Nowadays I use them frequently and the "exotic" charm has worn off – but I do love them, and not only because they are delicious but because they are so pretty.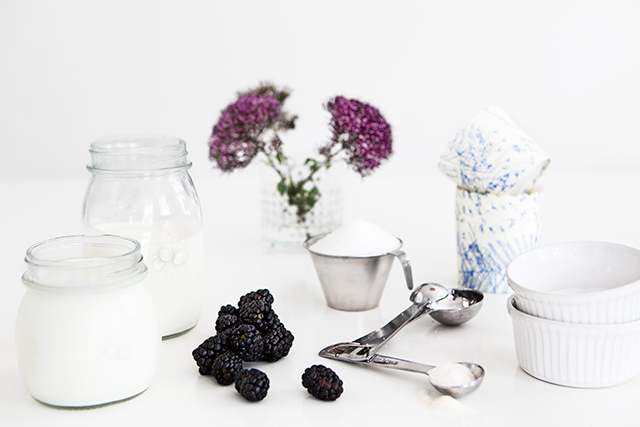 You do not have to make your Panna Cotta in traditional ramekins and invert them onto plates. You can easily make and serve Panna Cotta in pretty bowls, cake forms or cup cake liners.
I decorate my Panna Cotta with poached berries and syrup. You can basically poach the berries in what ever liquid you like – Elderflower, Lavender Syrup, Wine, Vanilla Syrup…
Poaching simply means to drop something into boiling or hot liquid and let it steep for a little while before fished back up.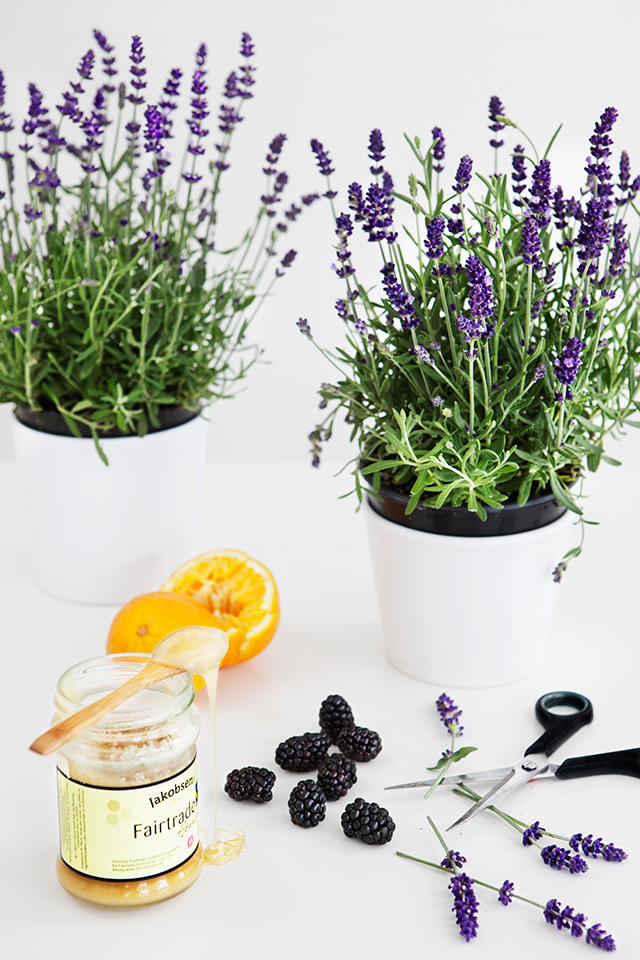 Eatable flowers are very popular at the moment, and lavender is definitely one of them. Lavender is in the Mint family and related to Rosemary, Thyme and Sage.
The flower is sweet to taste with a tiny hint of citrus. The flavour magnifies when you dry Lavender, so if you are using dry instead of fresh, make sure only to use 1/3 of what the recipe calls for.
Don't forget to taste the syrup while you are making it, because too much Lavender will make the syrup taste super Perfumed.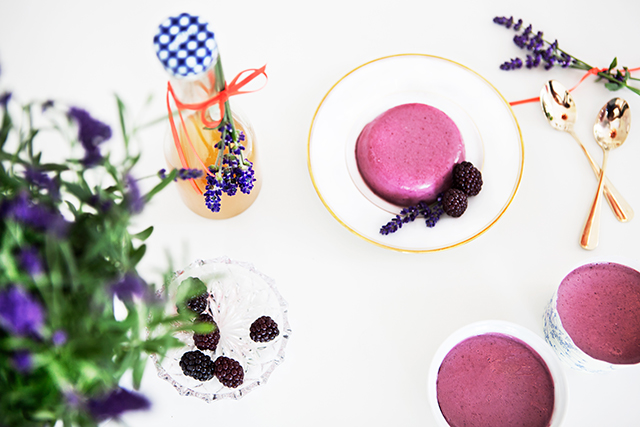 Recipe: Blackberry Panna Cotta with Lavender Syrup
Makes 8
Ingredients
300 g (10 ounces)

Blackberries

3 dl (1 cup + 3 tbsp)

Buttermilk

1/2 dl (3 tbsp)

Water

2,5 tsp

Gelatine Powder

3,5 dl (1,5 cups)

Heavy Cream

1 dl (6,5 tbsp)

Sugar
Directions
Blend blackberries and buttermilk in a blender until silky smooth. Then strain through a fine sifter into a bowl , discarding the solids
Place gelatine and water in a small bowl and let sit for 1 minute
Place the cream and sugar in a saucepan and bring to a simmer. Stir occasionally until the sugar has completely dissolved. Remove from heat
Add the gelatine to the cream and stir until dissolved
Add the gelatine cream to the blackberry/buttermilk mixture. Mix well
Strain the mixture to make sure there are no chunks or solids
Pour into ramekins and chill for 8 hours
Decorate with Poached Blackberries and Lavender Syrup
Lavender Syrup
2.5 dl (1 cup) Water
1/2 dl (3 tbsp) Orange Juice
2 tbsp Honey
1/4 Vanilla Bean
4 Fresh Lavender Flowers
1. Remove the seeds from the vanilla bean
2. Place Water, juice, honey, vanilla bean and seeds, and lavender flowers in a saucepan and bring to a boil. Let simmer until the honey has completely dissolved.
3. Remove from heat and let the syrup steep for a while, to your own tasting. Keep tasting and when you find the lavender flavour strong enough, remove the flowers and strain into a glass bottle.
4. Store in the fridge for up to 5 days
|
Published on July 28, 2014
|
Blackberry Panna Cotta with Lavender Syrup
Comments - I would love to hear from you