Ok. I'm Scandinavian and I have not the slightest idea what American Football is about – except it being a game with big dudes in tights running and throwing themselves on top of each other while the viewers stuff themselves with buffalo wings. Am I right?
That said, I do understand that Super Bowl also means feast and that's my language. Feast!
So recently I have been testing various classic American Recipes and in my humble opinion, I just nailed the Buffalo Wings Recipe. They are absolutely yummy!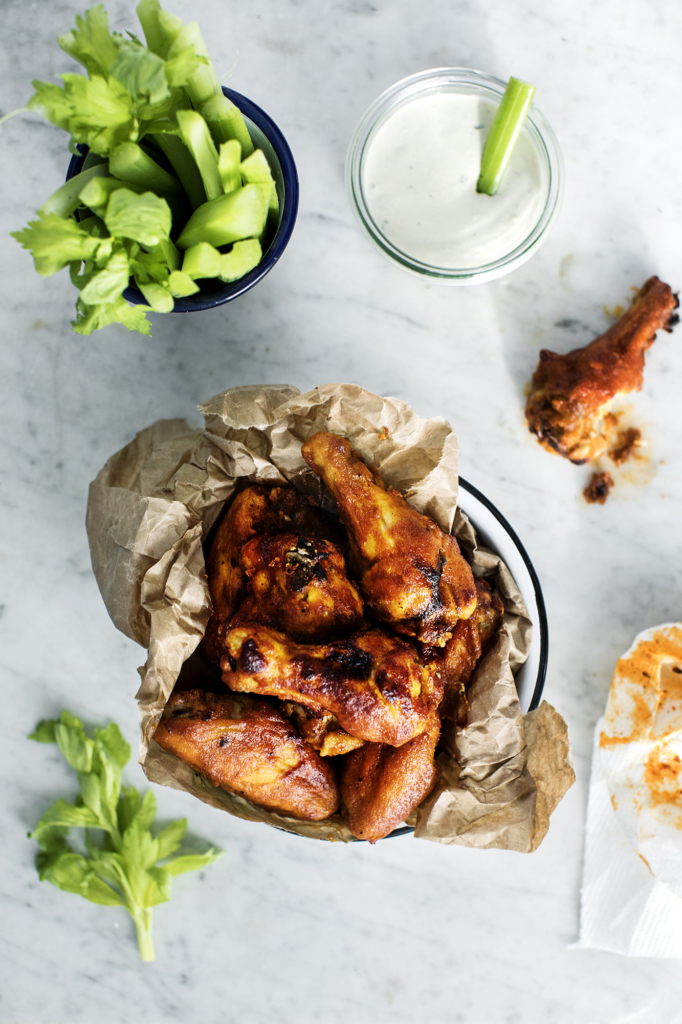 There are a lot of stories about how and where Buffalo Wings were invented, but the most popular story is about Teressa Bellissimo coming up with the delicious combo of wings and hot sauce back in 1964 at Anchor Bar in Buffalo, New York. Regardless of history, I think we can all agree on that Buffalo Wings are DELICIOUS!
Traditionally, they are made with Frank's Red Hot
but I like to mix Franks and Sriracha – I want them spicy, but also sweet and tangy.
You with me?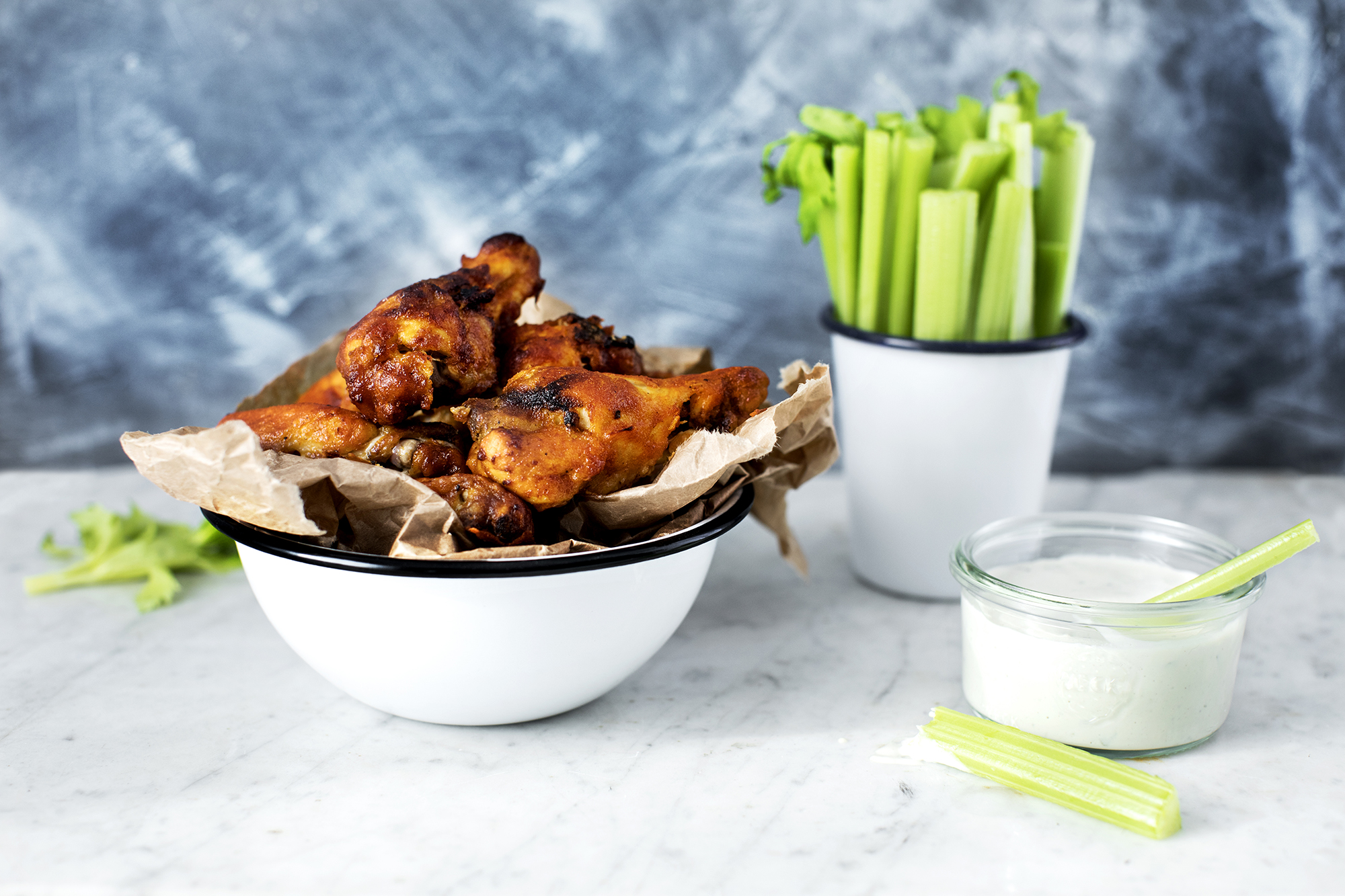 Recipe: Buffalo Wings Recipe
Ingredients
1 kg (2 lbs)

Chicken Wings

1/2 dl (1/4 cup)

Flour

1/2 tsp.

Salt

1/2 tsp.

Black Pepper

5 tbsp.

Sriracha

1.5 tbsp.

Frank's

40 g (3 tbsp.)

Butter

1 tbsp.

Brown Sugar

1 tbsp.

Water
Directions
Heat the oven to 350 degrees
Divide the wings into three pieces (remove the tip and use for stock or discard) coat the other two pieces with the flour, salt and pepper
Bake the wings in the oven for 30 minutes, turning after 15 min
Meanwhile, Warm hot sauce, franks, butter, brown sugar and water in a saucepan. When the wings have had their 30 minutes, coat them in the sauce and then place back in the oven for 20 more minutes.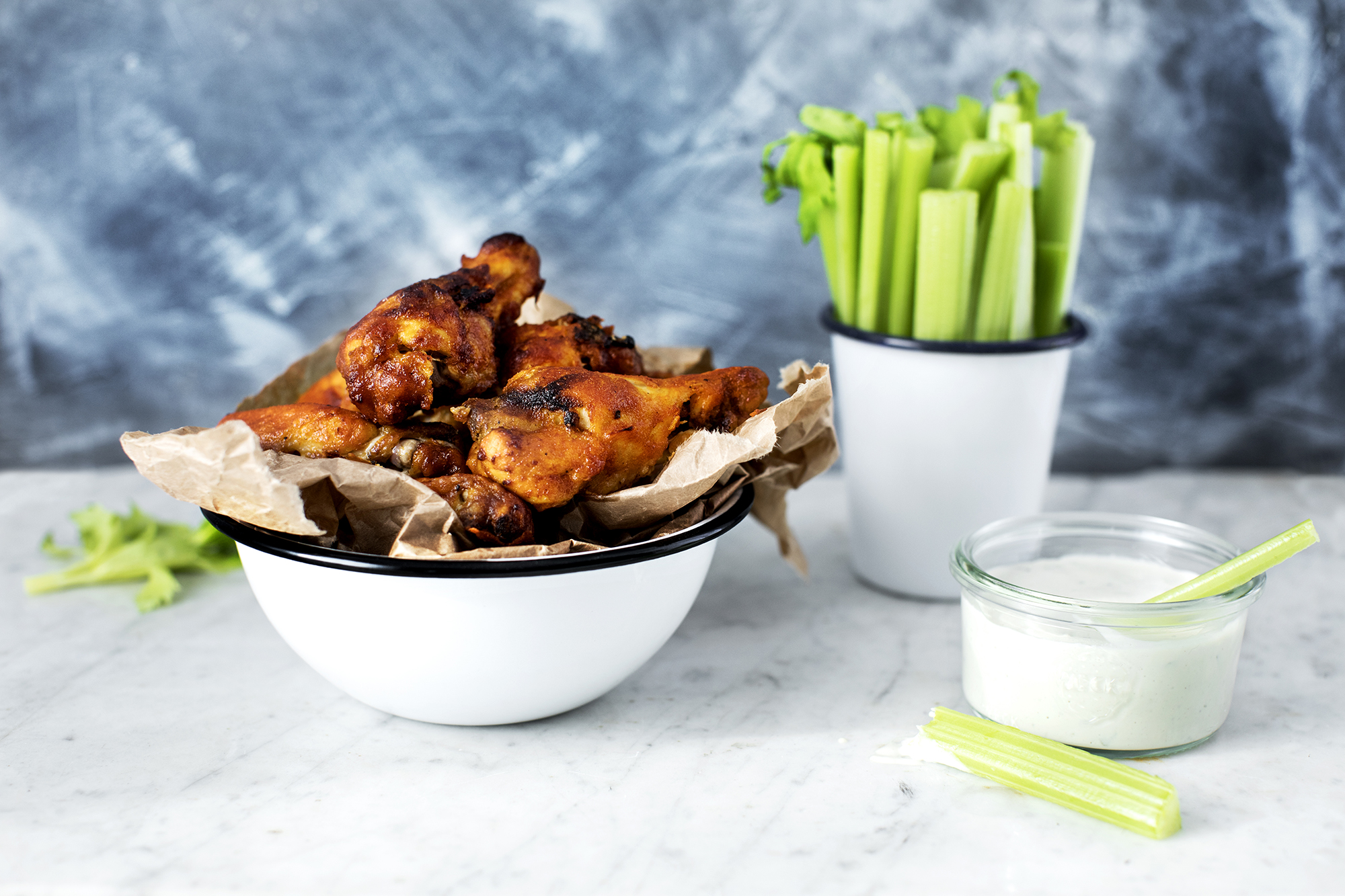 Recipe: Blue Cheese Dressing
Ingredients
60 g (2 oz)

Blue Cheese

1 dl (1/2 cup)

Creme Fraiche

1/2 dl (3.5 tbsp)

Mayonnaise

2 tbsp.

Lemon Juice
Directions
Crumble the cheese and mix together with the mayo, creme fraiche and lemon juice. Season with salt and pepper.
|
Published on January 28, 2017
|
Buffalo Wings Recipe
Comments - I would love to hear from you