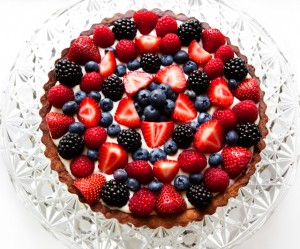 I was invited to a dinner party and decided to make something I have never done before – An old fashioned Fruit Tart! Keep on reading this post to find out where my inspiration came from, to get the delicious and quite simple recipe, and to discover the little extra somethin' somethin' I added to the crust. As you might have noticed I recently discovered (I dont have a TV, that is why I am so slow) and am by now absolutely obsessed with MasterChef Us. I find it so incredibly inspiring to watch these regular people make all that delicious food, making perfect courses under heavy pressure and while at it become better and better chefs. Well, at some point in season three two guys had to compete aganced each other in a pressure test and make a perfect old fashioned fruit tart. So I jumped on the idea and made one for a dinner party I was invited to.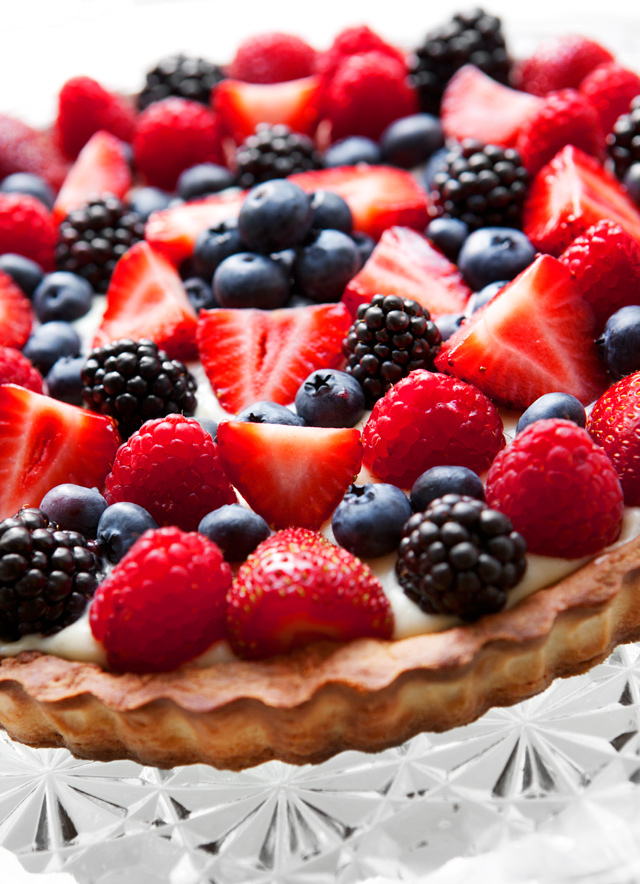 It was a first time for everything pie – I have seriously never made tart shell or paistery cream from scratch before. I have heard so many horrible stories about shells that shrink and fall, and all kinds of different and complicated techniques to bake them, so I never had the courage before. Despite my fear, general impatience and "I can make this recipe better" attitude in the kitchen my fruit tart came out pretty well – or to be completely honest my crust was slightly too crispy so next time I will watch it like a hawk. But the other guests of the party loved it so YAY for my success – and now it is your turn!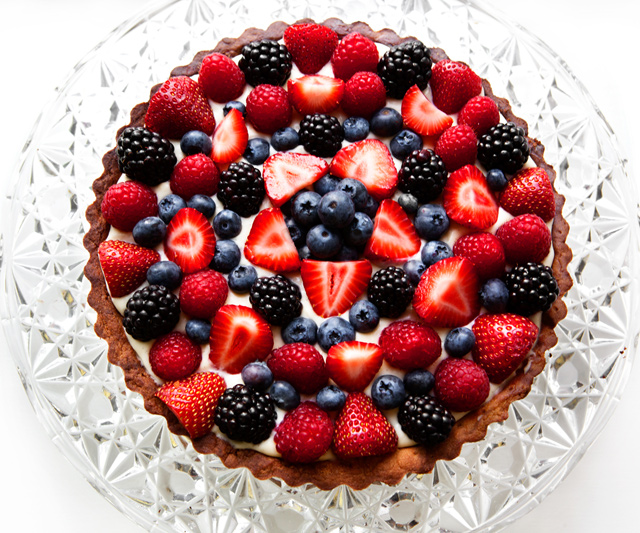 Here is the recipe for semi sweet tart shell and light and fluffy pastry cream: Tart Shell 3.5 dl all purpose flour pinch of salt 115 g ice-cold butter cut in smaller pieces 50 g powdered sugar 2 egg yolks 1. Pulse the flour, sugar and salt together in a food processor ( I don't have one so I used a blender and then my hands when the butter came in!) 2. Scatter the super cold butter over the dry ingredients and pulse until some of the butter is the size of a pea and some smaller 3. Whisk the yolks a little, just to brake them up, and then little by little add them to the mix and keep pulsing (I was using my hands) 4.  Kneed the dough so it just sticks together, it is supposed to be dry 5. Chill the dough wrapped in plastic for least one hour 6. After chilling the dough, roll it out between two pieces of plastic film 7. Turn the dough into a 21 cm tart pan with removable bottom 8. Press the dough lightly into place and repair cracks. Cut of overhang or fold it in for extra thick sides 9. Pierce the crust all over with a fork 10. Bake at 180°C for about 20 minutes. Keep a close eye so it doesn't become to crispy like mine 11. When the crust was completely cold I covered (using a brush) it with melted chocolate just to give it a extra somethin' somethin' Vanilla Pastry Cream 2.5 dl whole milk 1/2 vanilla bean 3 egg yolks 50 g sugar 1.5 tbs cornstarch 2 tbs flour 2 dl whipped heavy cream 2 tsp powdered sugar 1. Bring the milk and vanilla bean just to boiling, or until the milk starts to foam 2. Meanwhile Mix the sugar and egg yolks together 3. Sift the flour and cornstarch together and then add to the sugar/egg mix and mix until you have a smooth paste 4. Tempre the eggs by adding a tiny little of the now hot vanilla milk to the mix, while stirring. 5. Little by little in a steady stream add the rest of the milk to the eggs (If you get curdling in the mixture, pour through a strainer) 6. Now take the vanilla bean that is left in the sauce pan and scrape out the seeds and add to the milk/egg mixture 7. Then pour the milk/egg mixture into a medium saucepan and cook over medium heat until boiling, whisking constantly. When it boils, whisk mixture constantly for another 30 – 60 seconds until it becomes thick. 8. Pour into a bowl and immediately cover the surface with plastic wrap to prevent a crust from forming. Cool to room temperature (If you are not using it right away refrigerate up to 3 days. Beat or whisk before you use it to get rid of any lumps that may have formed) 9. Whip the heavy cream with the powdered sugar and gently stir in the now cold milky egg cream you made earlier.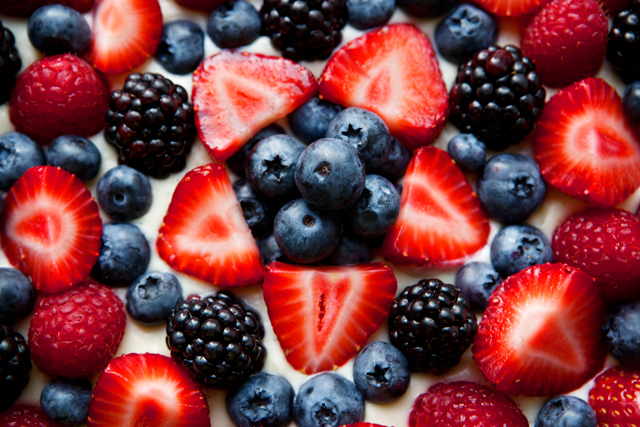 |
Published on September 4, 2012
|
Old Fashioned Fruit Tart
Comments - I would love to hear from you