It is unbelievably good and I promise that your family will love you double up if you serve them this brownie while decorating the house this weekend.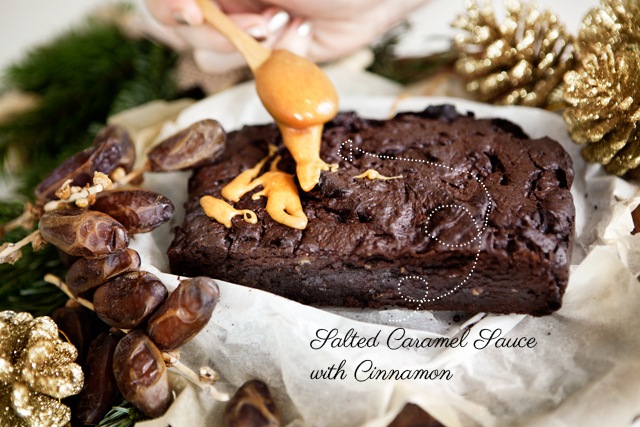 Using dates or prunes is such a great idea to minimizee the amount of sugar when baking. Even though this recipe calls for two whole dl (almost one cup) it is still a lot less than in a regular brownie recipe.
To make this a real holiday brownie I used ginger and 70% orange chocolate, and to go all in I drizzled some cinnamon spiced salted caramel sauce over the whole cake before cutting it into pieces.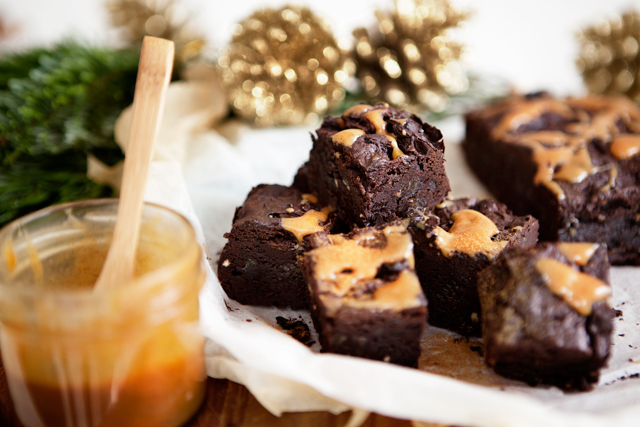 Edible presents are the best kind!
Cut the brownie into pieces, build a little stack with parchment paper in-between each layer. Wrap the whole thing in paper and decorate with a bow.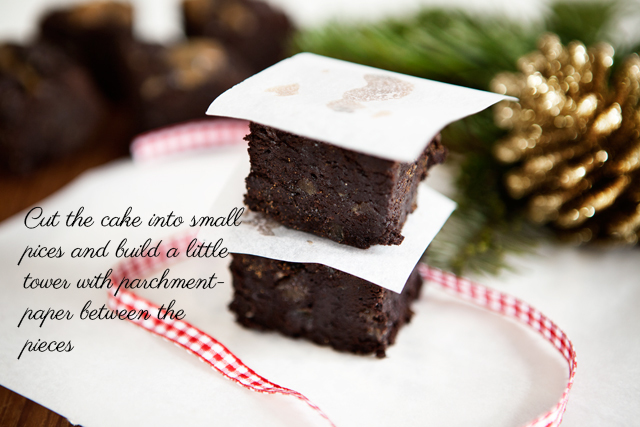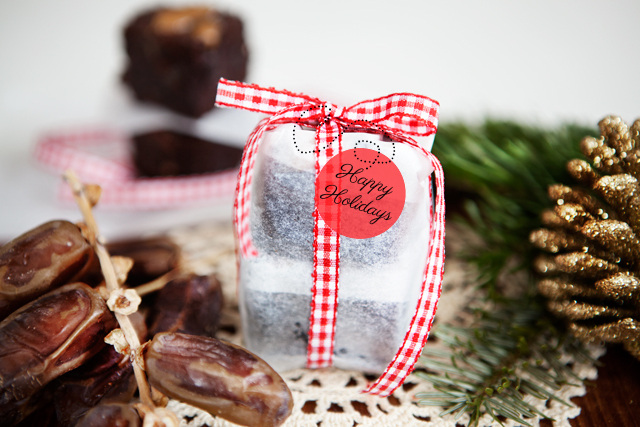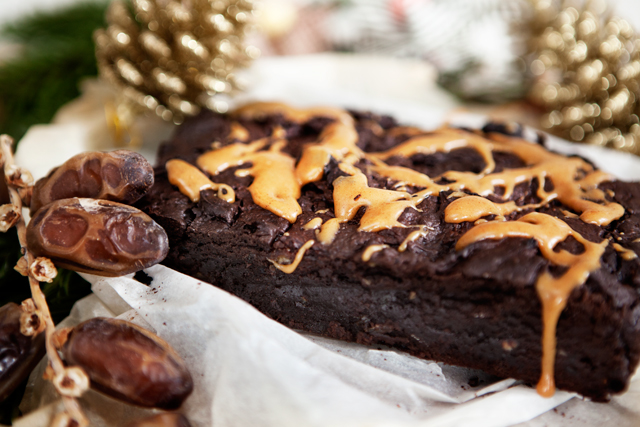 Recipe: Brownie with Dates
Salted Caramel Sauce 3.5 dl sugar
125 g butter
2 dl heavy craeam
1 tbs salt 1. In a hevay sauce pan melt the sugar slowly. You want it amber golden and around 150 degrees C. Be careful it burns at a blink of an eye (I did 3 batches before I got it right the first time i made this)
2. Add the butter all at once and stir until melted and well blended with the sugar
3. Remove from heat and slowly add the heavy cream
4. Add the salt
5. Cool, and pour into sterilized jar(s). Keep in the fridge for up to 3 weeks
6. I poured mine into different jars and in one of the jars I stirred in 2 tsp of cinnamon, just to maximize the holiday feeling
Ingredients
2 eggs

1 dl sugar

100 g dates - pitted and chopped finely in a processor

1/2 tsp vanilla extract

1/2 tsp salt

1/2 tsp powdered ginger

100 g 70% orange chocolate

50 g butter

1-2 tsp Amaretto or other delicious liqueur (optional)

1 dl flour

2 dl unsweetened cocoa
Directions
Preheat the oven to 180°C and line a baking tin (20x20cm)
Whisk the eggs until light and fluffy
Add the sugar to the egg mixture and mix well or until it thickens and stiffens up
Add the dates, vanilla, salt and ginger to the egg mix
Meanwhile, over water-bath melt the chocolate and butter together.
Stir occasionally until completely melted then add a dash of liqueur if you feel like it
Slowly pour the choco/butter in the egg mix while whisking, and I mean slowly! You have to temper the eggs at a slow pace so you do not end up with a bowl of scrambled eggs
Sift cocoa and flour together and then fold in the egg-batter or just until incorporated
 Bake until the top is firm and a toothpick plunged into the center emerges slightly moist with batter, 25 to 30 minutes
When cooled, drizzle with cinnamon spiced salted caramel sauce*
|
Published on November 29, 2012
|
Holiday Brownie Recipe
Comments - I would love to hear from you