Easter and Spring is upon us and what is more appropriate than a leg of lamb on the table? It is simple to make and sure has it's wow factor in place!
This leg of lamb recipe requires quite a lot of spices, but apart from that it is super easy and can be done in no time. And your home will smell amazing – the warm spices will bring you to foreign countries and create a beautiful atmosphere.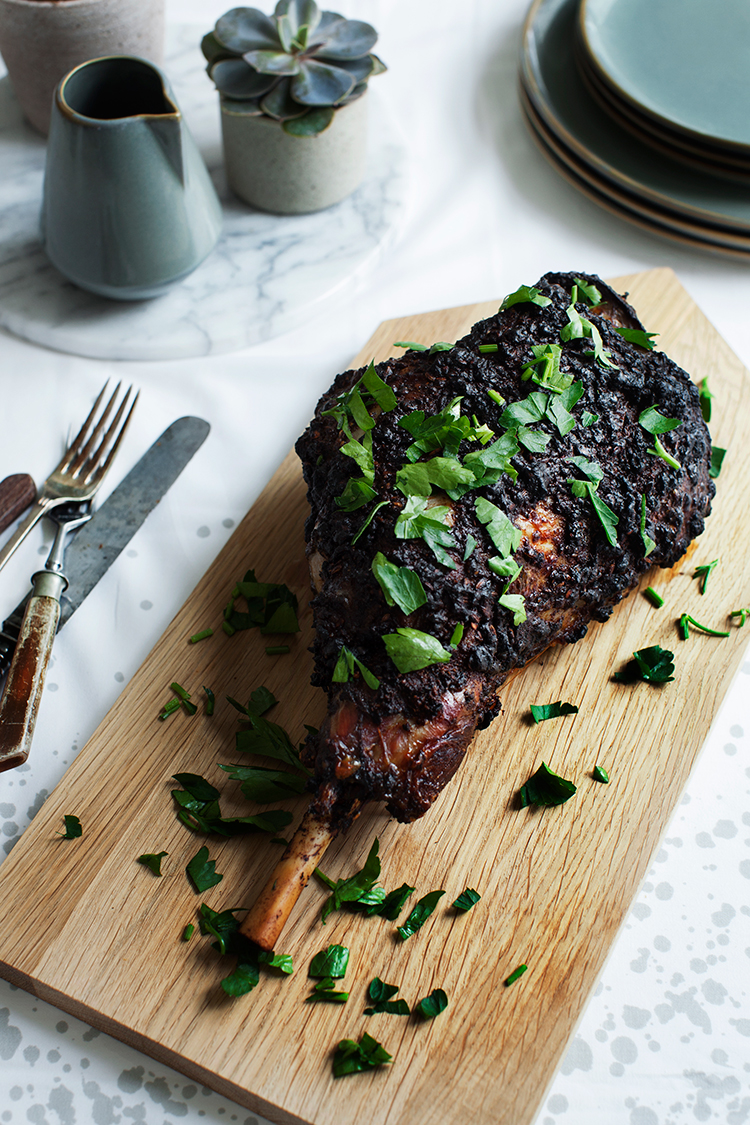 Throughout the world the most popular Easter symbol, apart from eggs, is the lamb. 
The tradition of eating lamb on Easter has its roots in early Christianity and is a super dramatic story that includes dead babies and punishments of God. Definitely not something I am going to get into here.
But the more likely and less symbolic explanation is probably that lamb was and is the freshest meat available after a long winter.
Along with lamb, ham is a popular choice for the Easter dinner table. The reason is largely seasonal: in the days before refrigeration, hogs were slaughtered in the fall. The fresh meat was preserved to last through the winter, creating products like bacon and sausage. Larger cuts like hams took longer to cure, so Easter would have been a perfect time to feast on them.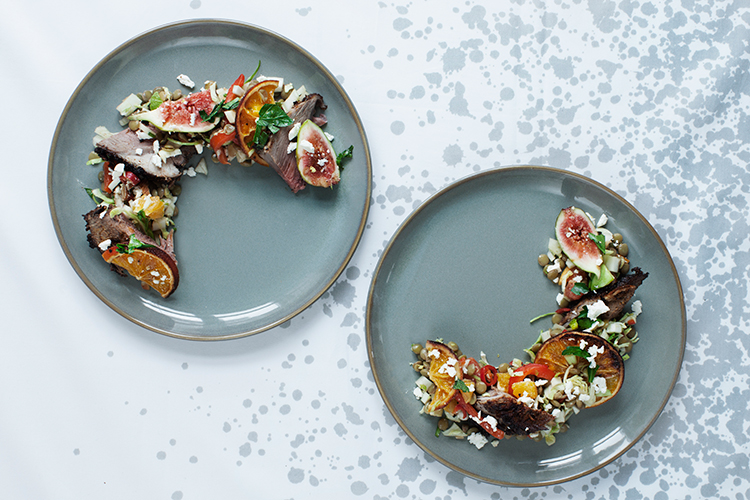 The marinade in this leg of lamb recipe turns black while roasting the lamb, it isn't burned nor does it taste burnt. So do not be afraid of serving it to your guests or to eat the spice layer, because it sure is delicious.
I prefer to cook my lamb medium rare and it is a beautiful sight to see the redness of the meat against the blackened outer layer. That alone creates a dramatic scene at the table.
This Lamb pairs exceptionally well with my Lentil Salad with grilled Citrus
Rule of thumb when roasting Lamb at 160°C (325°F)
Rare: 50°C (125°F) 20 minutes pr. 500 g (1 lbs)
Medium: 60°C (140°F) 25 minutes pr. 500 g (1 lbs)
Well Done: 70°C (158°F) 30 minutes pr. 500 g (1lbs)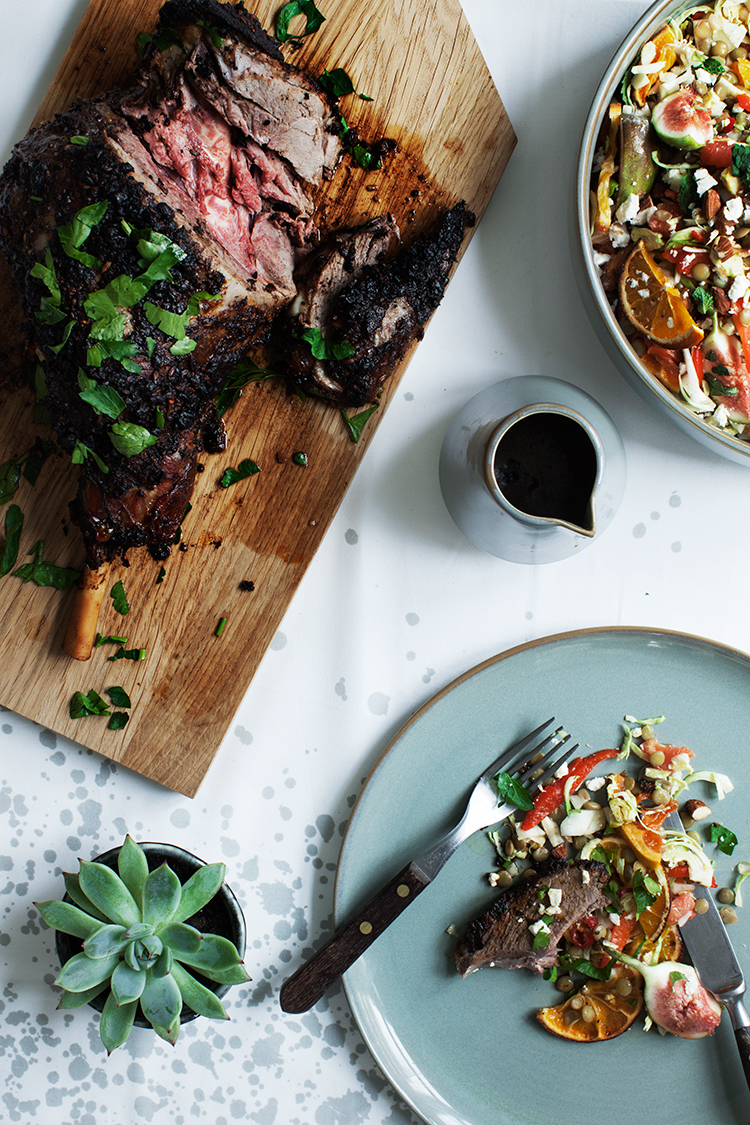 All the products in the images in this post are from the beautiful Danish Design Brand, ferm Living who create Scandinavian houseware and interior products with strong graphic edge and a hint of retro. This recipe was created for Ferm Living's Easter Catalog, available online.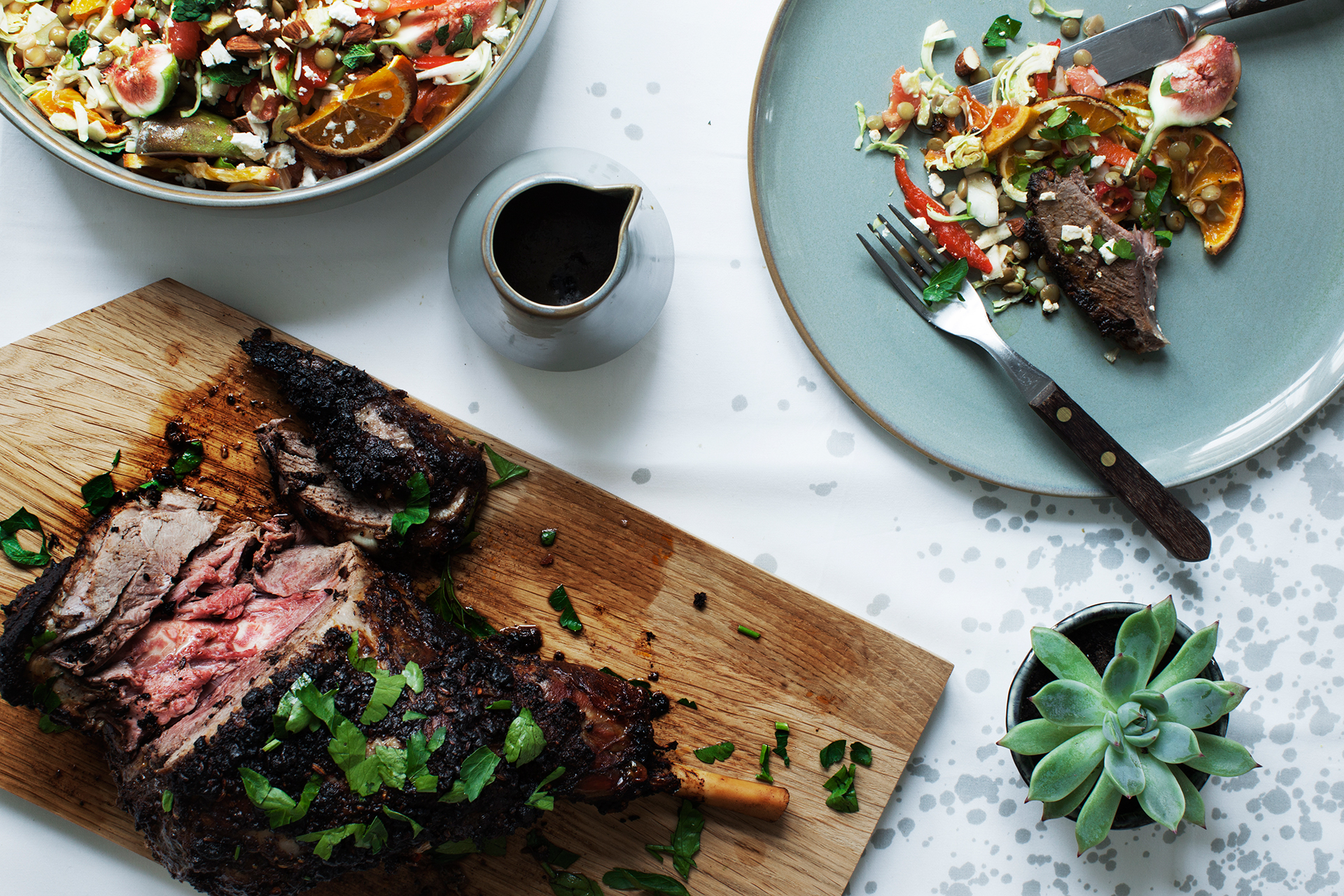 Recipe: Middle Eastern Leg of Lamb
serves 6
Ingredients
2 kg (4 lbs)

Leg of Lamb, bone in

2 tsp.

Black Pepper

2 tsp.

Sea Salt

2 tsp.

Paprika

1 tsp.

Fennel Seeds

1 tsp.

Cinnamon

1 tsp.

Ground Cumin

1 tsp.

Ground Coriander

1/2 tsp.

Chili Flakes

1/2 tsp

Ground Star Anise

20 g (0.7 oz)

Fresh Ginger, grated

3

Garlic Cloves

Juice from 1 Lemon

2 tbsp.

Olive Oil

Fresh Parsley for garnish
Directions
Take the leg of lamb out of the refrigerator about an hour before cooking to bring to room temperature.
Heat the oven to 160°C (325°F)
Put all the dry spice on a pan and heat over medium heat until fragrant, about 5 minutes
Then add the garlic and ginger and give it a good stir
Add the Lemon juice and olive oil and stir until you have a thick marinade
Rub the marinade on to the leg of lamb, make sure to cover every inch
Place the lamb on an oven rack with a baking tray underneath to collect the juices. Let the lamb roast for 80-90 minutes or until it reaches 62°C (140°F)
Let the lamb rest for 15 minutes before serving. Sprinkle with finely chopped parsley
Sift the juices from the baking tray and serve as sauce
|
Published on March 30, 2015
|
Leg of Lamb Recipe
Comments - I would love to hear from you