I think we can all agree that a pie is not just a pie, but a sign of warmth and the true feeling of home. The smell of freshly baked pie that is cooling on a windowsill is a memory dear to so many people, and luckily pie is surprisingly easy to make.
Pumpkin Pie tastes like Christmas itself and is the one true Thanksgiving-dessert. A pie that everybody loves with it's soft filling and a crispy shell, not too sweet but with lovely tones of spice.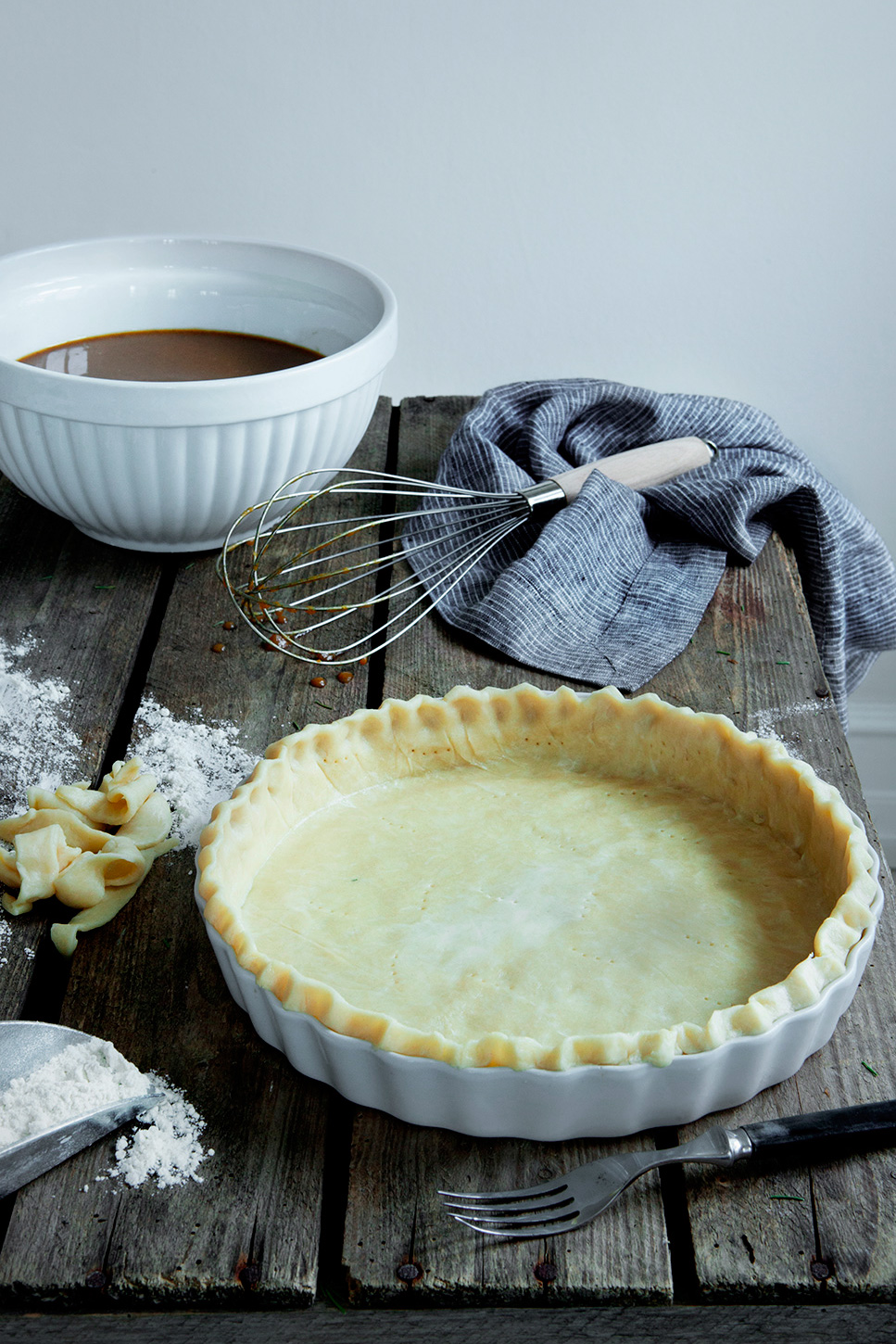 Historians have traced the roots of pie to the Greeks, who are thought to have invented the pie shell by mixing water and flour 950 B.C.
From there the pie culture traveled to Europe and from England to the United States in the mid 17th century when the Pumpkin Pie Recipe first appeared in a cookbook. Despite all that, it wasn't until the early 19th century that pie became popular among the general public in America.
The reason why I make my own pumpkin purée is because I want to be sure that no sugar or additives are added.
You can easily freeze pumpkin purée, so I always make a large batch and store leftovers in the freezer. If you do not have time to make your own purée you can use canned, just make sure to buy the purest one without spices and added sugar.
To save time you can make both filling and the pie dough few days in advance and store in the fridge. But don't roll out the dough or fill the shell until on the day you bake the pie.
If the pie begins to brown on top before the filling is stiff while in the oven, then cover with foil and continue baking.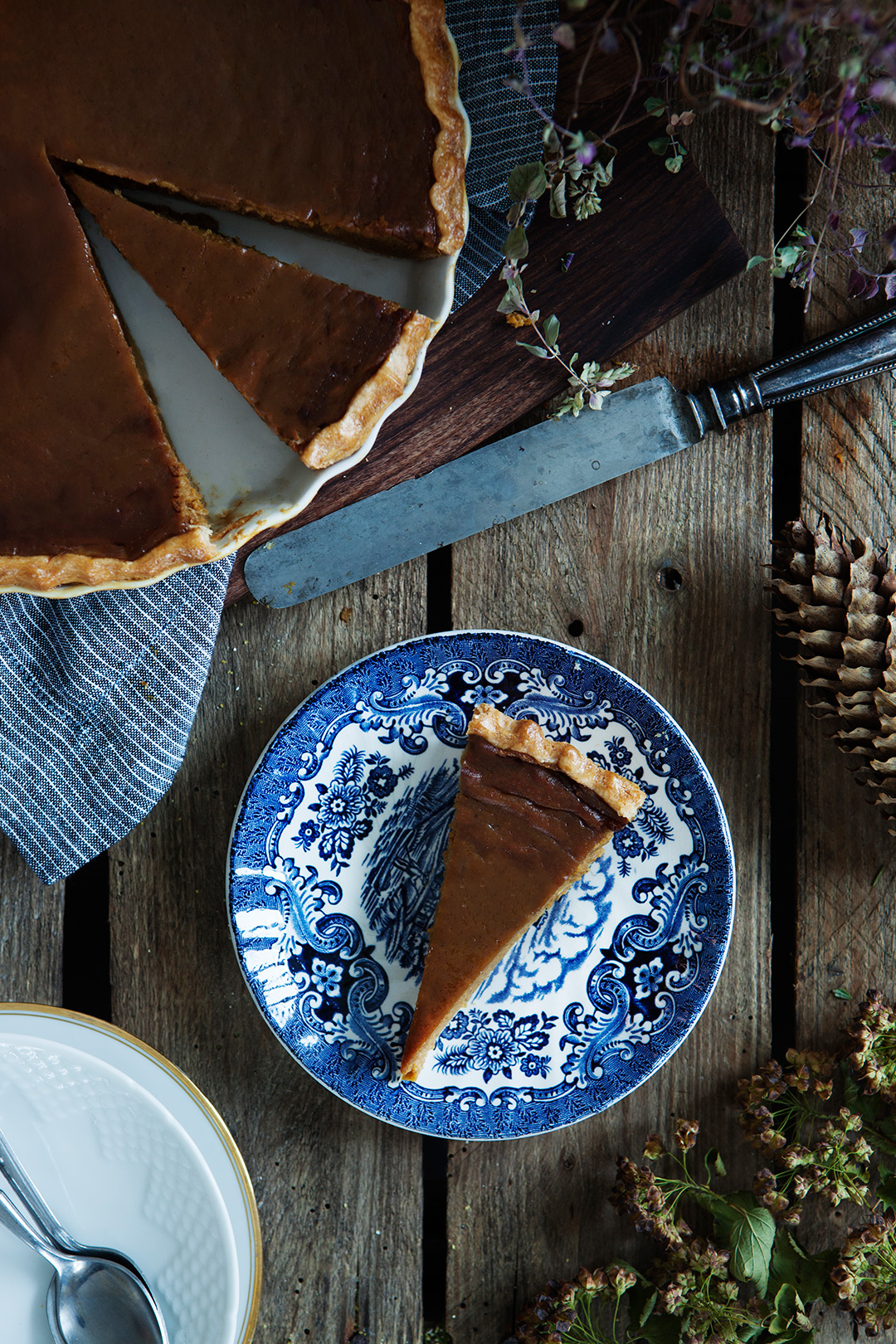 Fancy some more Pumpkin Recipes? Check out my Pumpkin Spice Latte and Thai Pumpkin Soup.
Looking for inspiration for alternative Thanksgiving Dessert? How about A Gluten, Sugar and Dairy Free Chocolate Pumpkin Cake,  Pumpkin Pie Ice Cream, or some Pumpkin Pie Truffles.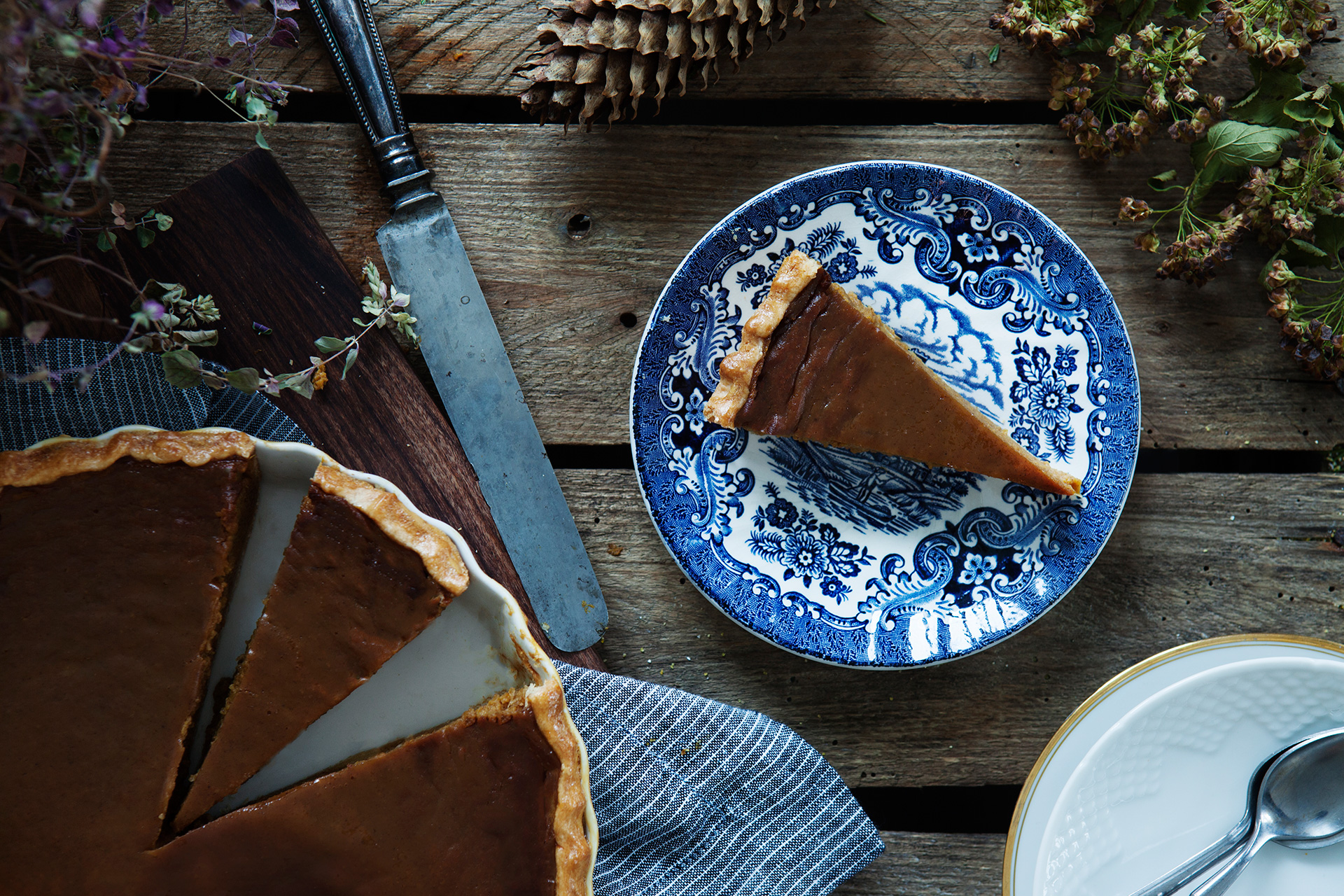 Recipe: Pumpkin Purée
Don't discard the seeds from the pumpkin, make Roasted Pumpkin Seeds for your salad!
Ingredients
Directions
Chop your pumpkin in half and remove the seeds
Depending on how large your pumpkin is, chop the halves into pieces and place shell side up on a baking trey
Bake in 200°C (400F) preheated oven for 30 minutes
Now the pumpkin shell should be a lot darker than before, deep dark orange
When cool enough to handle you should be able to easily remove the skin from the fruit or scoop the pumpkin out of the shell. Toss the skin
Process the pumpkin meat and then strain
Now you should have a very smooth pumpkin puree which you can freeze, use for pumpkin pie or other delicious treats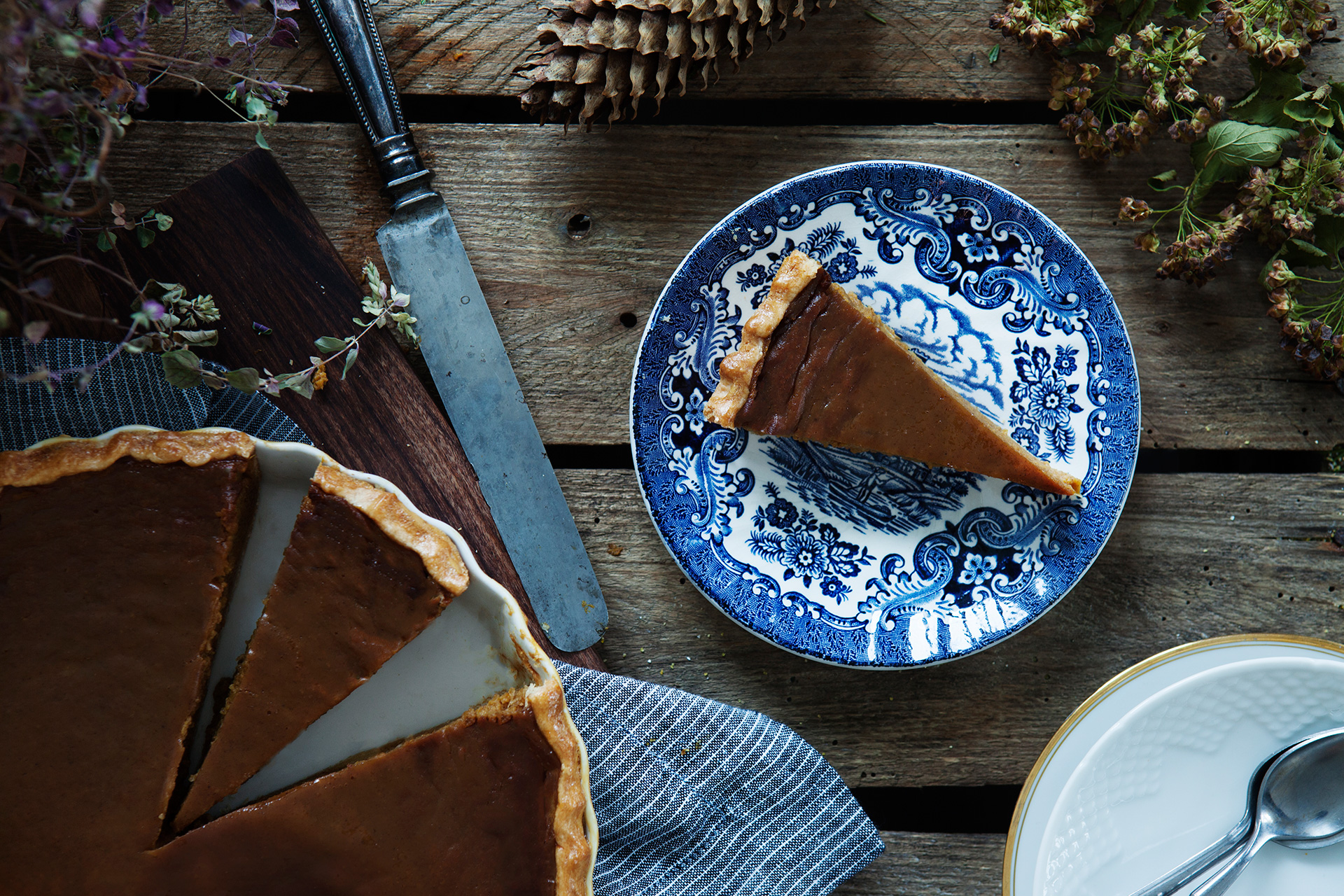 Recipe: Pumpkin Pie Filling
Ingredients
5 dl (2 cups)

Pumpkin Purée

2 dl (3/4 cup)

Brown Sugar

3

Eggs

2,5 dl (1 cup)

Whole Milk

1 tsp

Cinnamon

1 tsp

Ginger

1/4

Allspice

1/8

Cloves, ground
Directions
Mix everything together in a large bowl and pour directly into the pie shell or store in airtight container in the fridge for up to 3 days.
Pour in the filling, brush the edge with egg wash and bake at 180°C (355°F) for 50-60 minutes or until the filling is stiff and a toothpick inserted into the middle comes out clean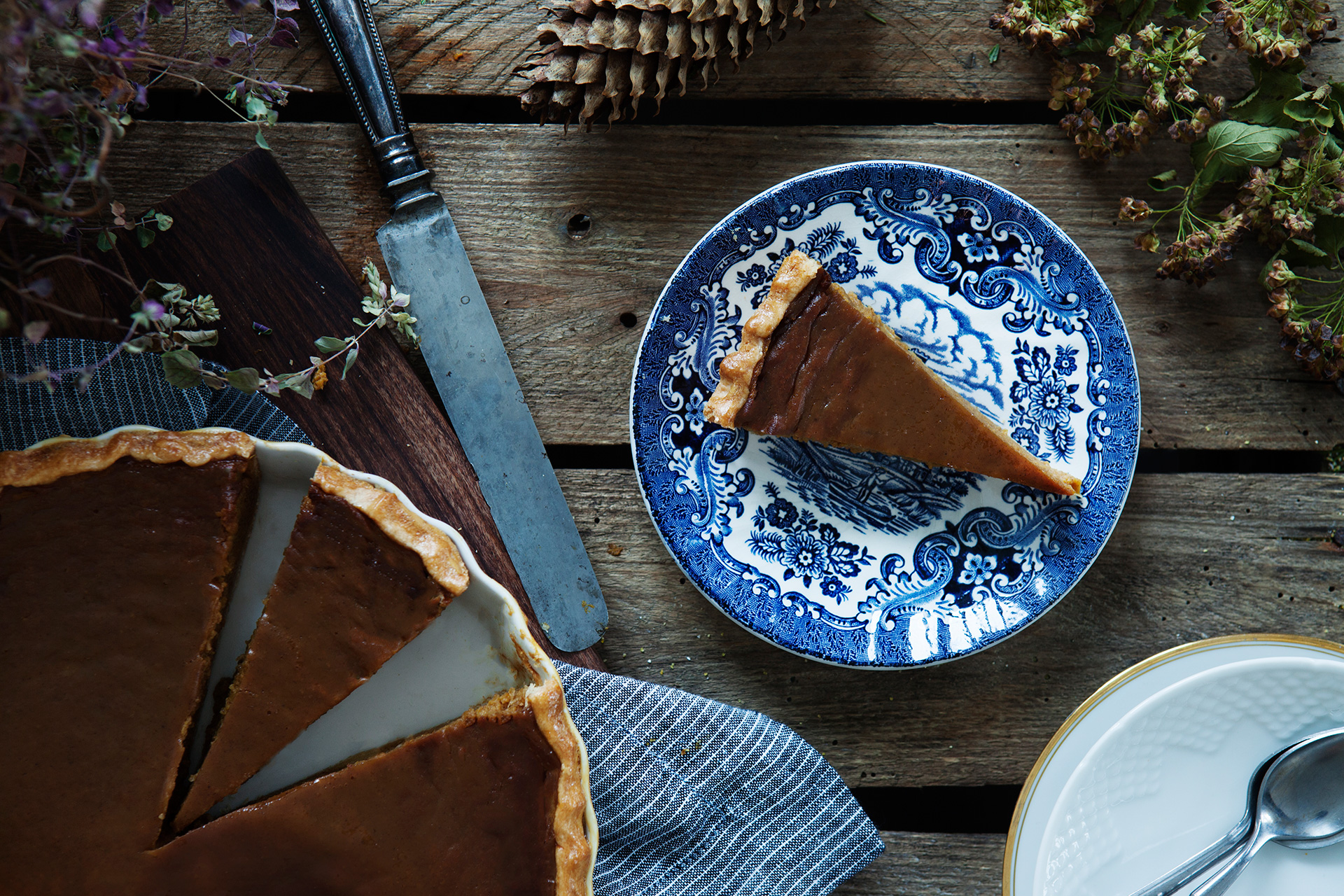 Recipe: Pumpkin Pie Crust
Ingredients
5 dl (2 cups)

Flour

115 g (1 stick)

Butter

1 tbsp.

Sugar

6 tbsp.

Ice Water

1

Egg (for egg wash)
Directions
Cut the butter into cubes and place in the freezer for about 10-15 minutes
Place flour, ice cold butter, sugar and salt in a food processor and spin until you have sand like substance
Add the water and pulse a few times or until the dough starts staying together
Pour the dough onto a clean surface and press it together into a disc. Wrap in plastic wrap and place in the fridge for 1 hour or up to three days.
Roll the dough out into a 25 cm (10 inch) disc. Press it into a pie form, cut the overhanging edges and crimp the edges with your fingers
Pour in the filling, brush the edge with egg wash and bake at 180°C (355°F) for 50-60 minutes or until the filling is stiff and a toothpick inserted into the middle comes out clean
|
Published on November 10, 2015
|
Pumpkin Pie Recipe
Comments - I would love to hear from you