Pumpkin isn't only delicious when spiced with cinnamon and puréed in a pie. This Thai pumpkin soup has a nice kick to it and I promise it will fill your belly and heart with warmth.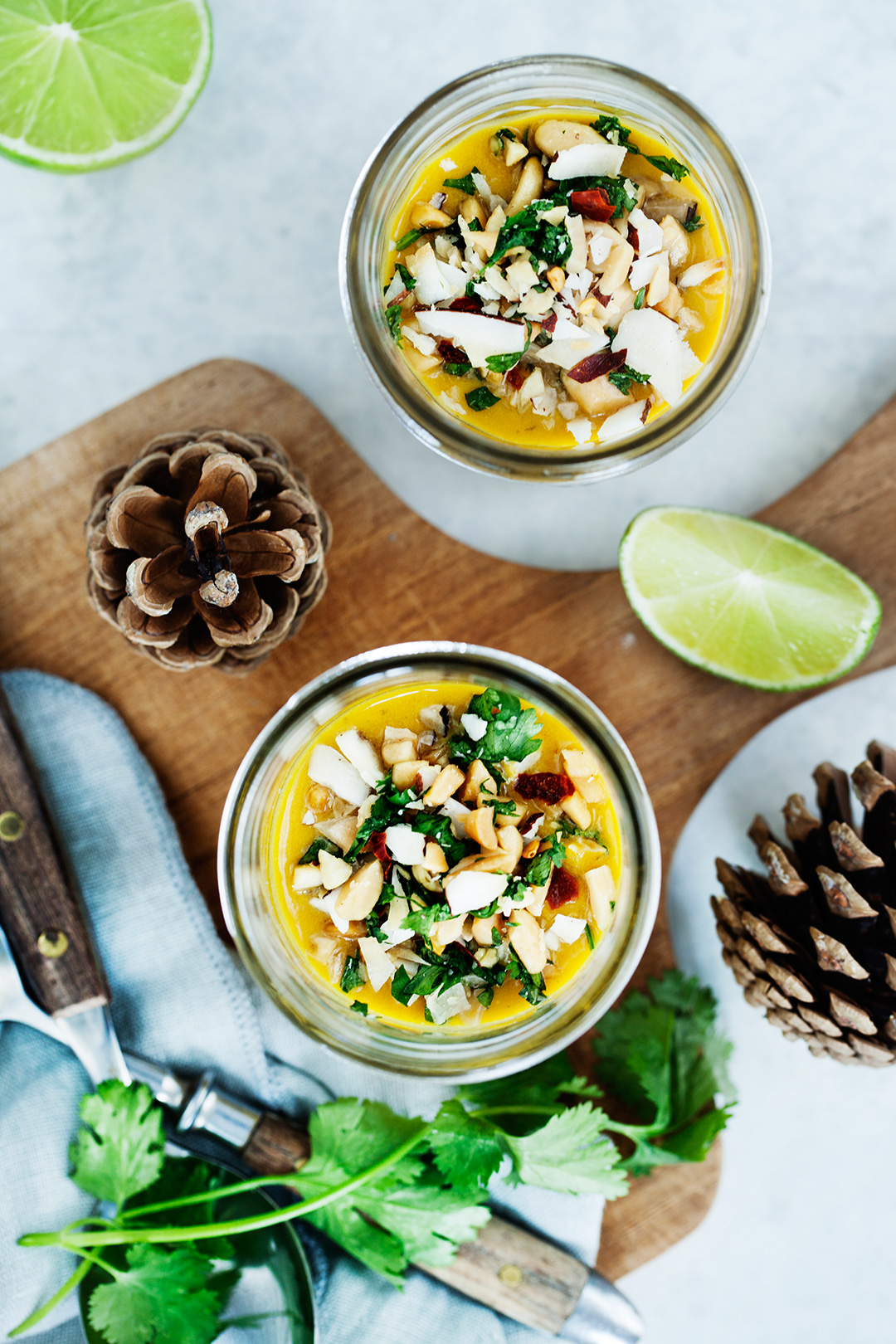 I am all about coziness, soft blankets, candle light and comfort food these days. Not that it is freezing outside (yet!) but it is significantly darker and the city is turning grey. I can feel the winter tickling and I am secretly looking forward to the first snow flakes and eventually christmas.
This soup will warm you up, but if you are in the mood for something sweet, try my Pumpkin Whoopie Pies  or Pumpkin Pie Truffles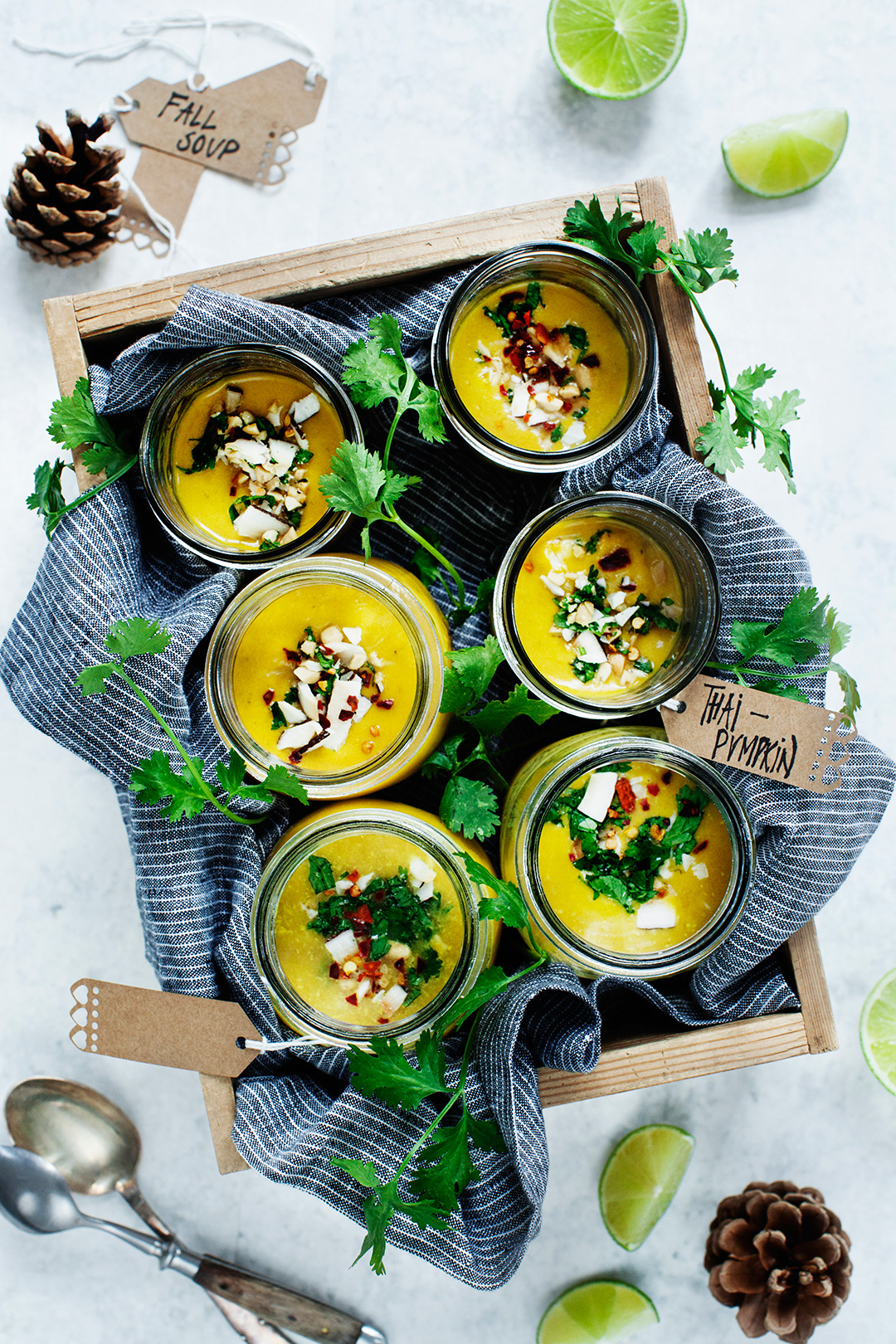 Few Tips:
– You can use thai basil instead of cilantro or you could use both. Adding some red curry is also a good idea and you can add or subtract chili all after how spicy you want the soup. Use this thai pumpkin soup recipe as a guide and then use your tastebuds to take you to your preferable thai taste.
– Feel free to use any kind of pumpkin you like, I used two kinds of pumpkin for my soup, simply because I had two halves. 1/2 hokkaido and 1/2 butternut squash. Peel, remove the seeds and dice the pumpkin before weighing.
– If you want to add some protein I highly recommend grilled shrimp or some chicken. Just cook it separately, and add as a garnish.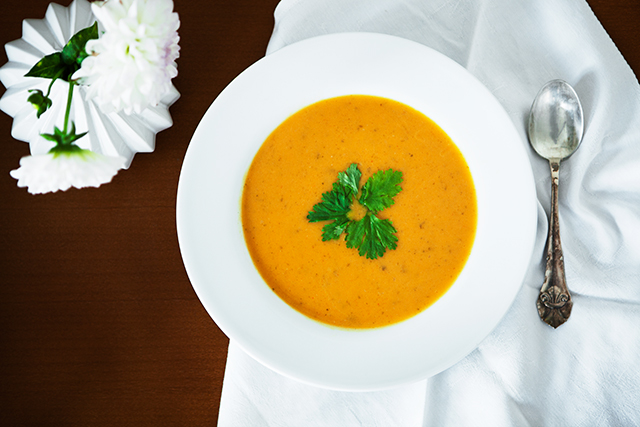 Recipe: Thai Pumpkin Soup
*Here is my recipe for Roasted Pumpkin Seeds
Ingredients
1 kg (2lbs)

Pumpkin Meat - peeled and deseeded

2 tbsp

Coconut Oil

1 tsp

Brown Sugar

1 cup

Chopped Onions

3

Cloves Garlic, minced

thumb sized piece

Fresh Ginger, chopped

1 tbsp

Lemongrass, minced

1 tsp

Chili Flakes

Handful

Fresh Cilantro (Koriander)

3 tbsp

Fish Sauce

1 tbsp

Soy Sauce

1/2 L (2 cups)

Vegetable or Chicken Stock

400 ml (1,5 cups)

Coconut Milk

Peanuts, Coconut Flakes and Cilantro for garnish
Directions
Start by peeling and deseeding* the Pumpkin. Then dice and weigh the meat.
Over low heat caramelise the onions in the oil and brown sugar. When it starts changing to more brown color add garlic, ginger, lemongrass and chili flakes.
When the spices have softened add cilantro, fish sauce and soy sauce. Give it a good stir.
Add pumpkin and vegetable stock. Let the soup simmer for 20 minutes or until the pumpkin has completely softened. If you feel like the soup needs more liquid, add water.
Blend the soup and then strain through a sieve for a silky smooth texture
Return the soup to the pot and bring to a simmer again, add coconut milk and taste the soup. If you think it needs salt add a little more soy and/or fish sauce.
Garnish every plate with chopped peanuts, coconut flakes and fresh cilantro.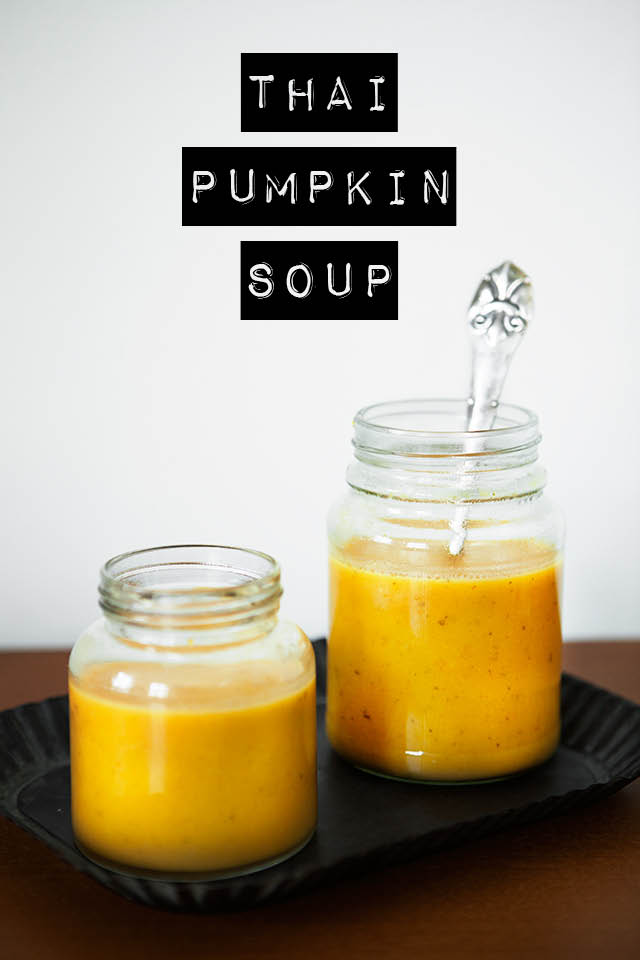 |
Published on October 24, 2013
|
Thai Pumpkin Soup
Comments - I would love to hear from you