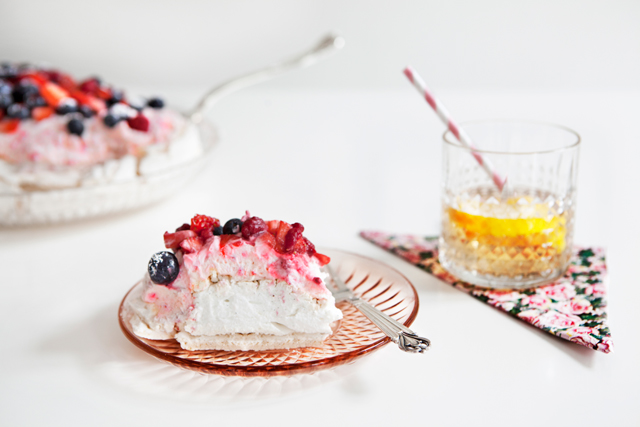 The Meringue is a well known guest at family gatherings and the way it is served hasn't changed all that much over the years. When I was growing up, it was usually served with whipped cream, pears from a can or nuts.
I call the Pavlova the royal and elegant sister of the traditional Meringue. It is very light and has the wonderful quality of being a crispy meringue shell on the outside and a fluffy marshmallow on the inside.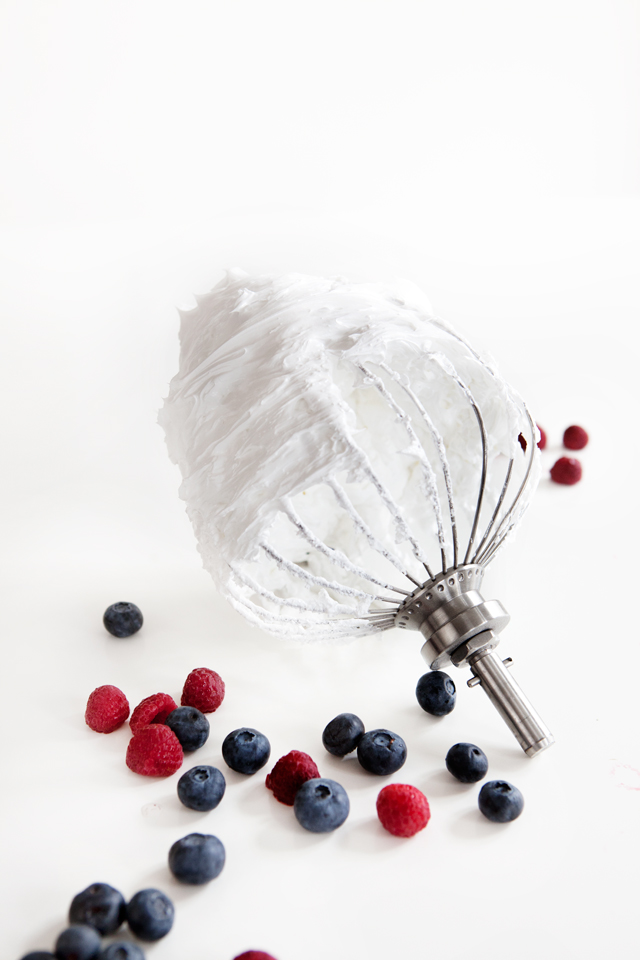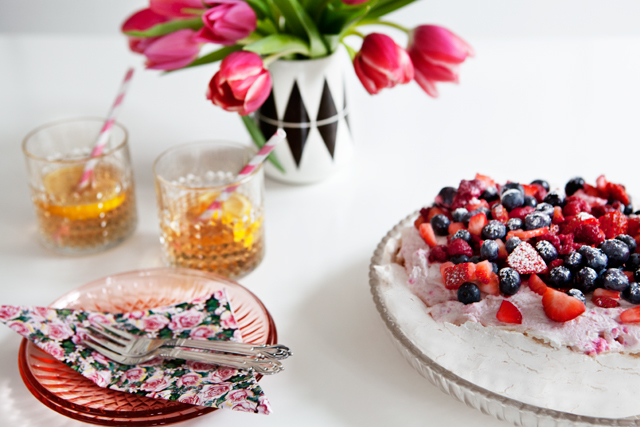 The Pavlova is originally from New Zealand (or Australia) – They have been fighting over the ownership of the recipe for decades, but research indicates that NZ is the source of this simple recipe.
This sophisticated and dashing dessert was made in honor of and named after the Russian ballet dancer, Anna Pavlova, who in 1926 toured in both Australia and New Zealand.
Pavlova is traditionally decorated and served with whipped cream and fresh berries. I usually put raspberries and dash of liqueur in the cream, just to make it extra fancy. But as always, I recommend you be creative and follow your taste buds.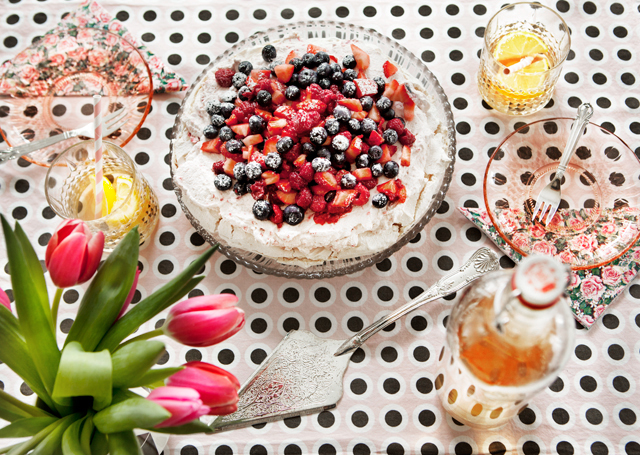 Pavlova
4 Large (or 5 small) Egg Whites
225 g Sugar
1/2 Vanilla Bean (or 1 tsp extract)
1 tsp Regular White Vinegar
1/2 tbsp Cornstarch (Corn Flour)
1. Preheat the oven to 130°C (250°F)
2. Line a baking sheet with parchment paper and draw a 18 cm (7 inch) circle on the paper. Turn the parchment paper over so the circle is on the reverse side
3. Beat the egg whites on medium speed in a stand mixer until they form and hold soft peaks
4. Start adding the sugar one tbsp at a time and continue to beat on high speed
5. Beat the whites and sugar until the meringue forms soft and shiny peaks. Test to see if the sugar is fully dissolved by rubbing a little of the meringue between your thumb and index finger. The meringue should feel smooth, not gritty. If it feels gritty the sugar has not fully dissolved so keep beating until it feels completely smooth
6. Beat in the vanilla
7. Remove the bowl from the mixer and sprinkle the vinegar and cornstarch over the merengue and gently fold in with a spatula
8. Spread the meringue inside the circle drawn on the parchment paper, smoothing the edges, and make sure the edges are slightly higher than the center
9. Bake for 60-75 minutes (I bake mine for 65 min) or until the outside is dry and is a very pale cream color. Turn the oven off, leave the door slightly ajar, and let the meringue cool completely in the oven. The outside of the meringue will feel firm to the touch, if gently pressed, but as it cools you will get a little cracking and you will see that the inside is soft and marshmallowy.
10. Remember that the sides are higher than the center and therefor you should not flip the cake over on a serving plate, but gently slide it over

Filling/Topping
4 dl (1.7 cups) Heavy Cream
2 tsp citrus Liquor (I used Grand Mariner)
2 handfulls Raspberries
1. Whip the cream half stiff and add liquor if you feel like it
2. When the cream is half whisked add the rasberries and whisk some more. The berries will break apart and color the cream light pink and add a fresh taste
3. Mound the cream into the center of the Meringue
4. Decorate with fresh berries or fruit of your choice. I used strawberries, blueberries and rasberries
|
Published on March 8, 2013
|
The Elegant Pavlova
Comments - I would love to hear from you