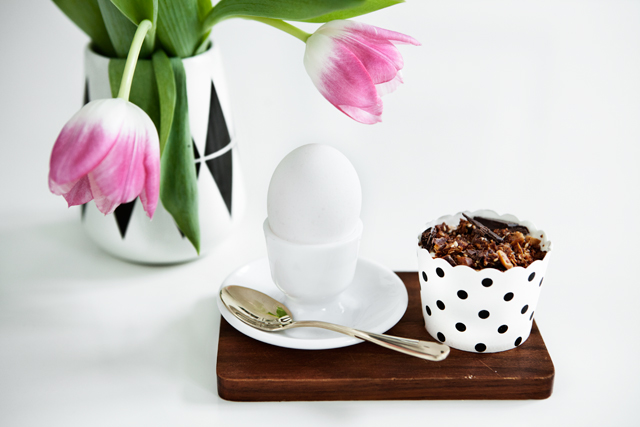 The greatest thing about making your own granola apart from it being super easy is that you are in total control of what is in it. Personally I am not a big fan of dried fruits and therefor I almost never buy granola at the supermarket. I eat my Homemade Granola with low-fat yogurt, either greek or skyr, and on weekends I add a little bit of dark chocolate, fresh fruit and some maple syrup on top, just to make those two mornings a little more special ♥ Happy Weekend Y'all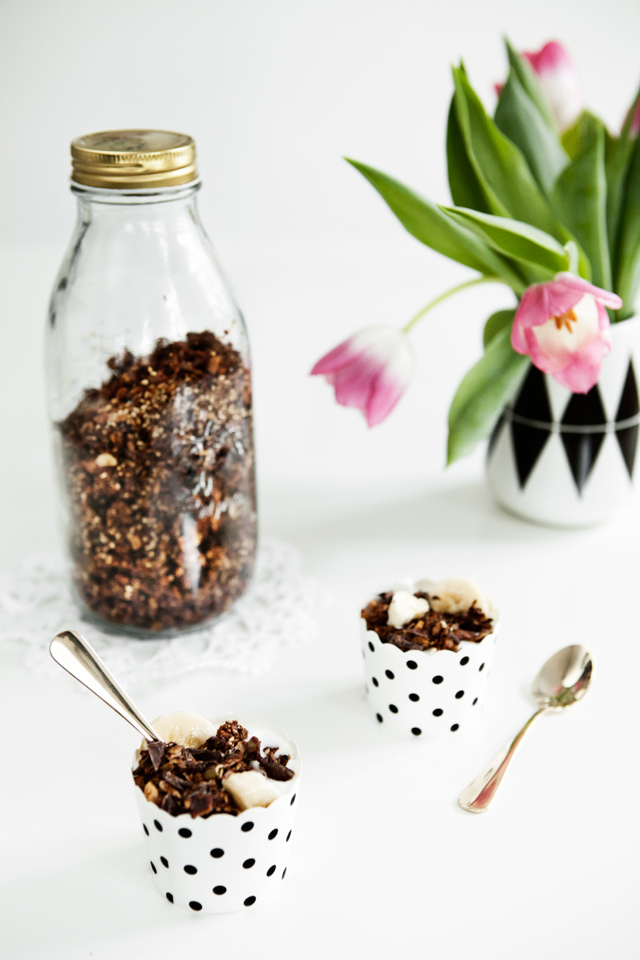 When I made this recipe I was simply cleaning out of my pantry drawer, so it is not mettled in stone. If you, unlike me, are a big fan of dried fruit you should add some raisins and/or cranberries. And if you love almonds, throw them in too. The same goes if you do not have hazelnuts or pumpkin seeds, just use what you have and love. Be creative! For more inspiration for this weekend's breakfast check out my recipes for Lemon Pancakes and Egg Muffins  
Homemade Granola Recipe This is a very small recipe. It is plenty for baking but if you eat granola for breakfast every day you might want to double or even tripple the recipe
2 dl  Old Fashioned rolled oats
1/2 dl  Unsweetened shredded Coconut
1/2 dl  Sesame Seeds
1/2 dl  Pumpkin Seeds
1/2 dl  Sunflower Seeds
1/2 dl  Unsalted Peanuts from the Shell, roughly chopped
4 whole dried figs, finely chopped
1/2-1 tsp  Cinnamon
1/2  dl Coconut Oil
1/2 dl  Good quality Honey
1. Preheat the oven to 150°C (300°F)
2. Remove peanuts from shells and chop them roughly
3. Remove the stems from the figs and chop them finely
4. Mix all the dry ingredients together in a bowl
5. Add the oil and honey and mix well again
6. Spread the granola out on parchment paper
7. Bake for 20 minutes
8. Store in an airtight container for up to 3 weeks.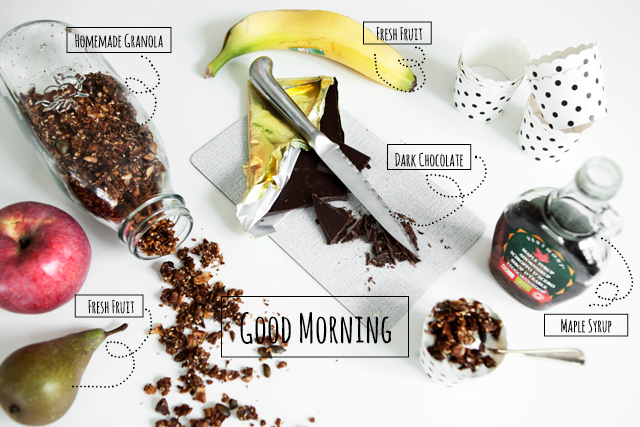 |
Published on February 15, 2013
|
Weekend Breakfast – Homemade Granola
Comments - I would love to hear from you