We love, love, love Doughnuts in our little family and we seriously have to restrain ourselves from buying a dozen every week. Last fall, shortly after our move to the US we decided to try to make our own. Long story short: Our homemade doughnuts were DELICIOUS! and now you can make them too!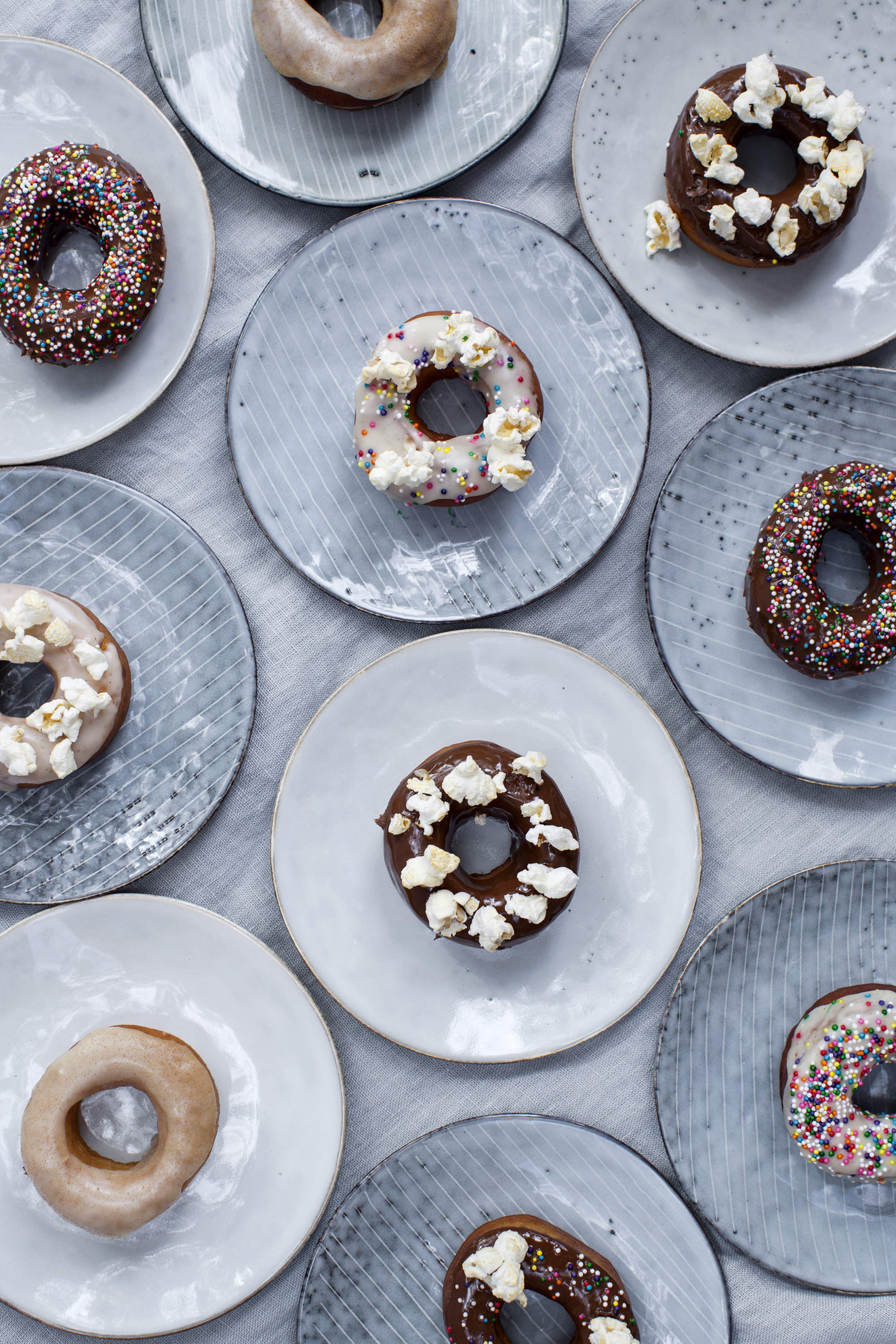 Also, we made a video – because that is the type of family we are 😉
The music in the video is by Bensound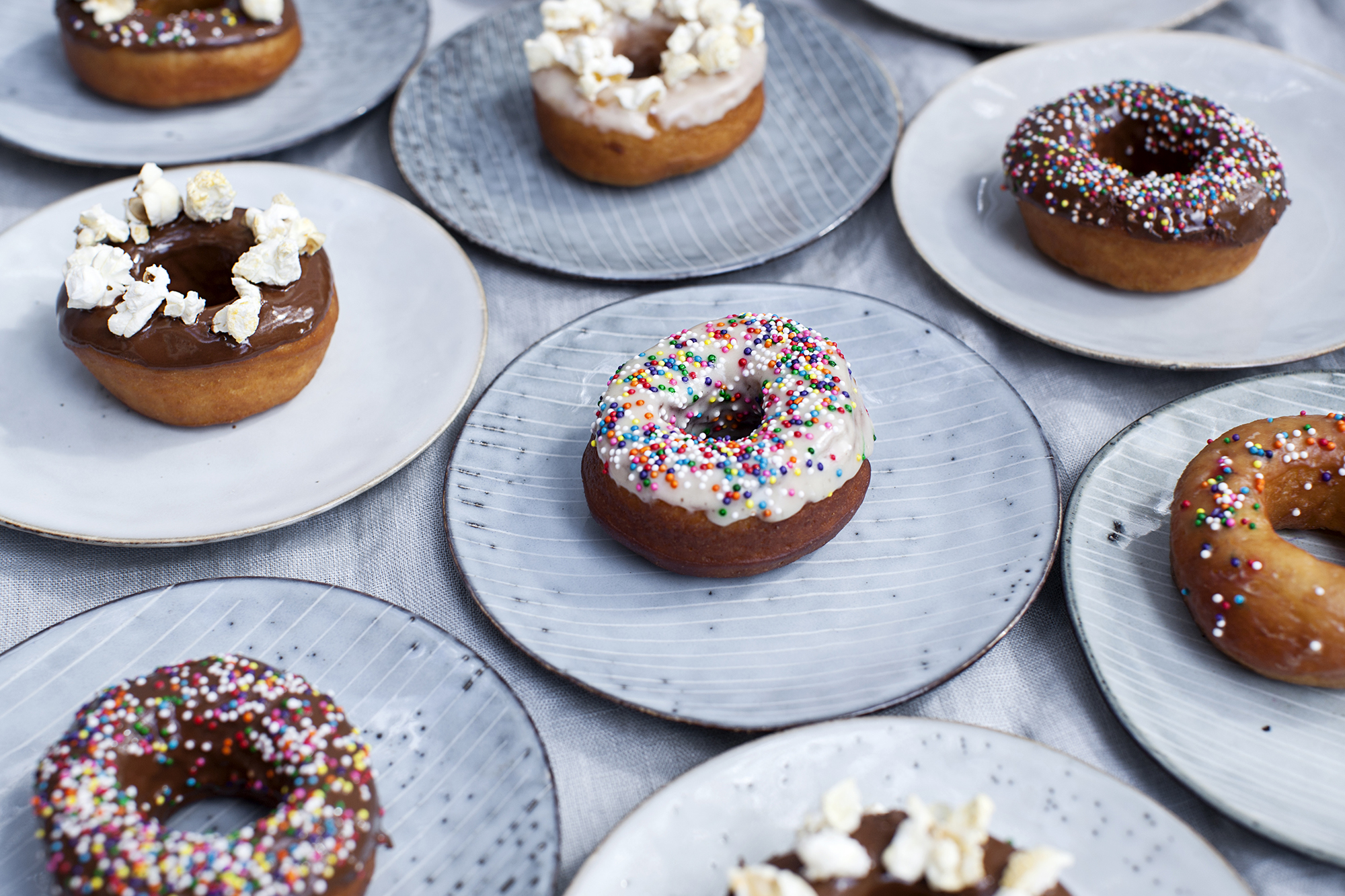 Doughnuts are a perfect activity to do with the kids. Doughnuts are so fun to decorate so go nuts when making glaze and sprinkles. This recipe offers maple glaze, but as you can see on the images I also made dark chocolate and white chocolate glaze for some of the doughnuts as well. We decorated some of them with popcorn and some with sprinkles – you can also use nuts or freeze dried fruits if you feel like it.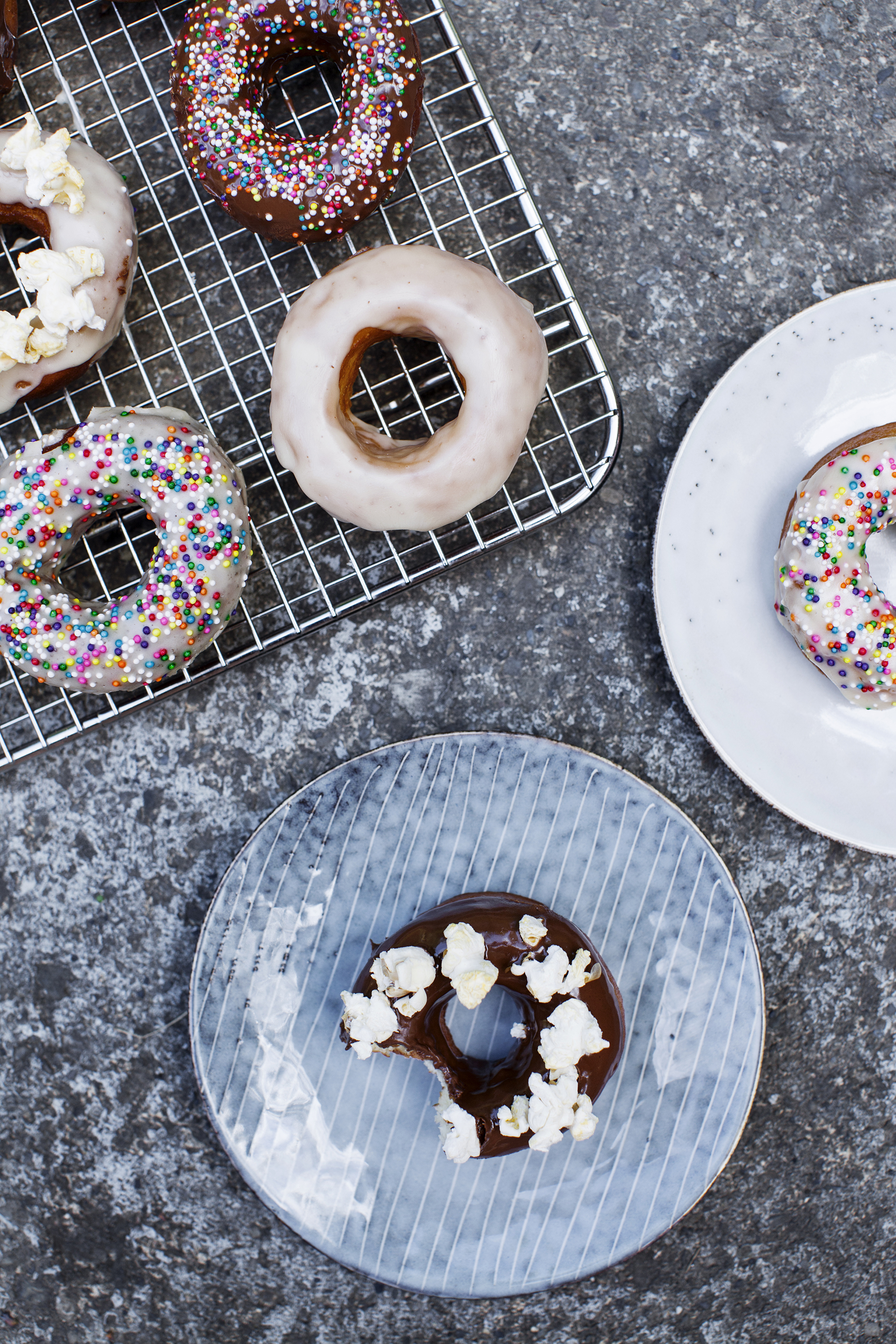 When picking a title for this recipe I was in serious doubt how to spell "Doughnut". Is it Doughnut or Donut, I wondered. Well, it seem like both spelling variations are correct but I like the look of the word doughnut better in writing, so that's what I went with.
You can read more on the spelling debate Donut vs. Doughnut in this Huffington Post article.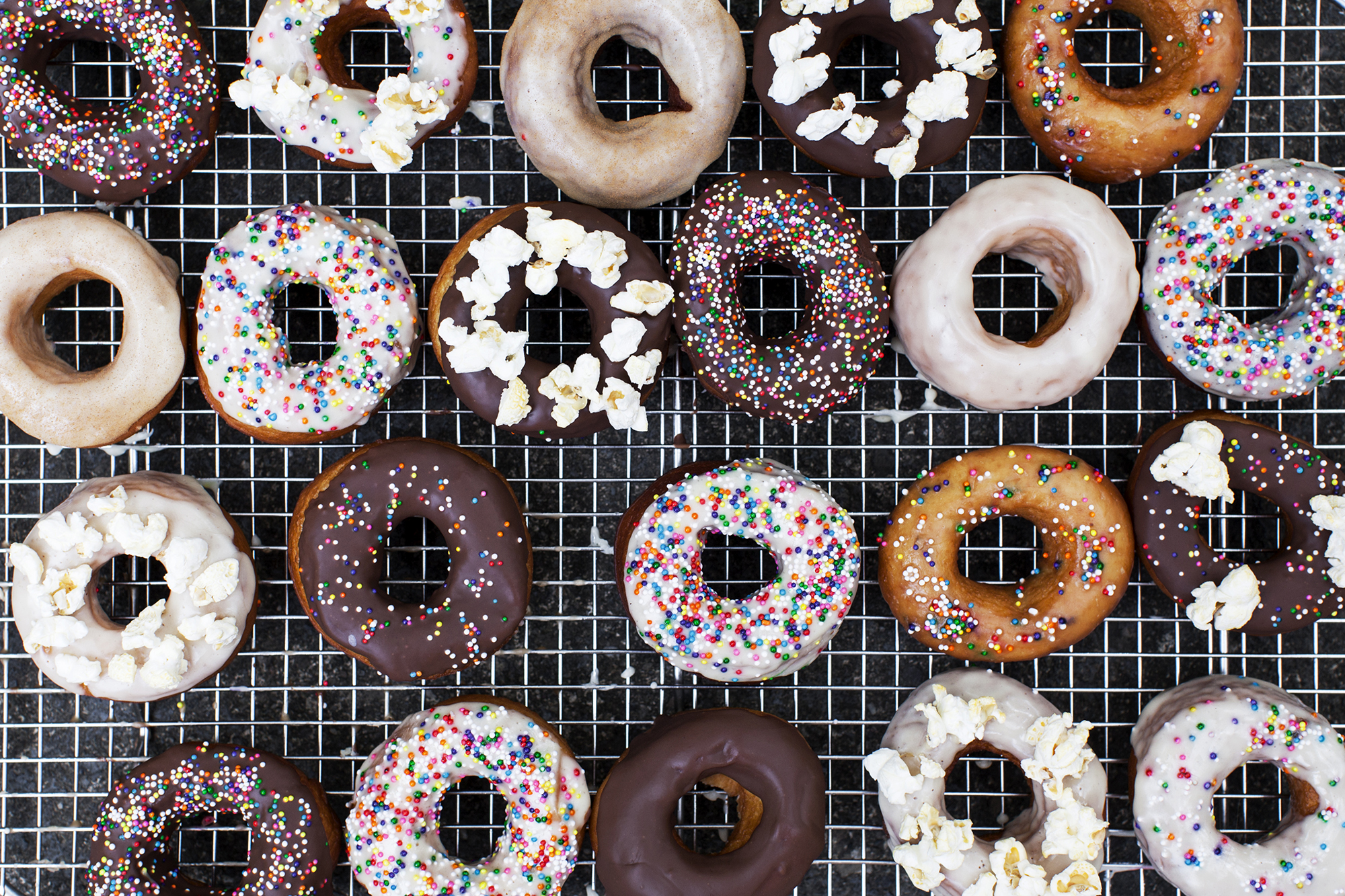 Recipe: Homemade Doughnuts
Ingredients
4 dl (1 2/3 cups)

Milk

3/4 dl (1/3 cup)

Coconut Oil

650 g (1 lbs + 12 oz)

Flour

3 tsp

Dry yeast

5 tbsp.

Sugar

2

Eggs

2 tsp.

Vanilla Essence

2 tsp.

Salt

Frying Oil
Directions
Heat milk and coconut oil to 38C (100F)
Stir flour, sugar and yeast together in a big bowl
Whisk Eggs, vanilla and salt together in another bowl
Now add the whisked egg and warm milk to the bowl with flour. Knead for 20 minutes by hand or 10 minutes in a stand mixer, or until you have a shiny and elastic dough. The dough should be a little sticky.
Let the dough rise for 1 1/2 hours under a clean cloth in a place with no draft. For example in the oven.
Roll the dough into a 1 cm (1/2 inch) thick disk. Usa a doughnut cutter or a glass or what ever you have on hand to form 7-9 cm (2,5-3,5 inch) circles. Don't forget to make a 3 cm (1 1/3inch) hole in the middle if using a glass
Collect the edges and roll the dough out again. You should be able to make 24 doughnuts.
Now place your cut out doughnuts on parchment paper and dust with little flour. Place a kitchen towel on top and let rise for 1 more hour.
Heat the frying oil to 175C (350F).
Place two doughnuts at a time in the pot and let them fry for 30 seconds on each side or until golden. Don't forget to turn them as they will not flip over by theme selves.
Let the fried doughnuts drip and cool off on paper towels or baking rack.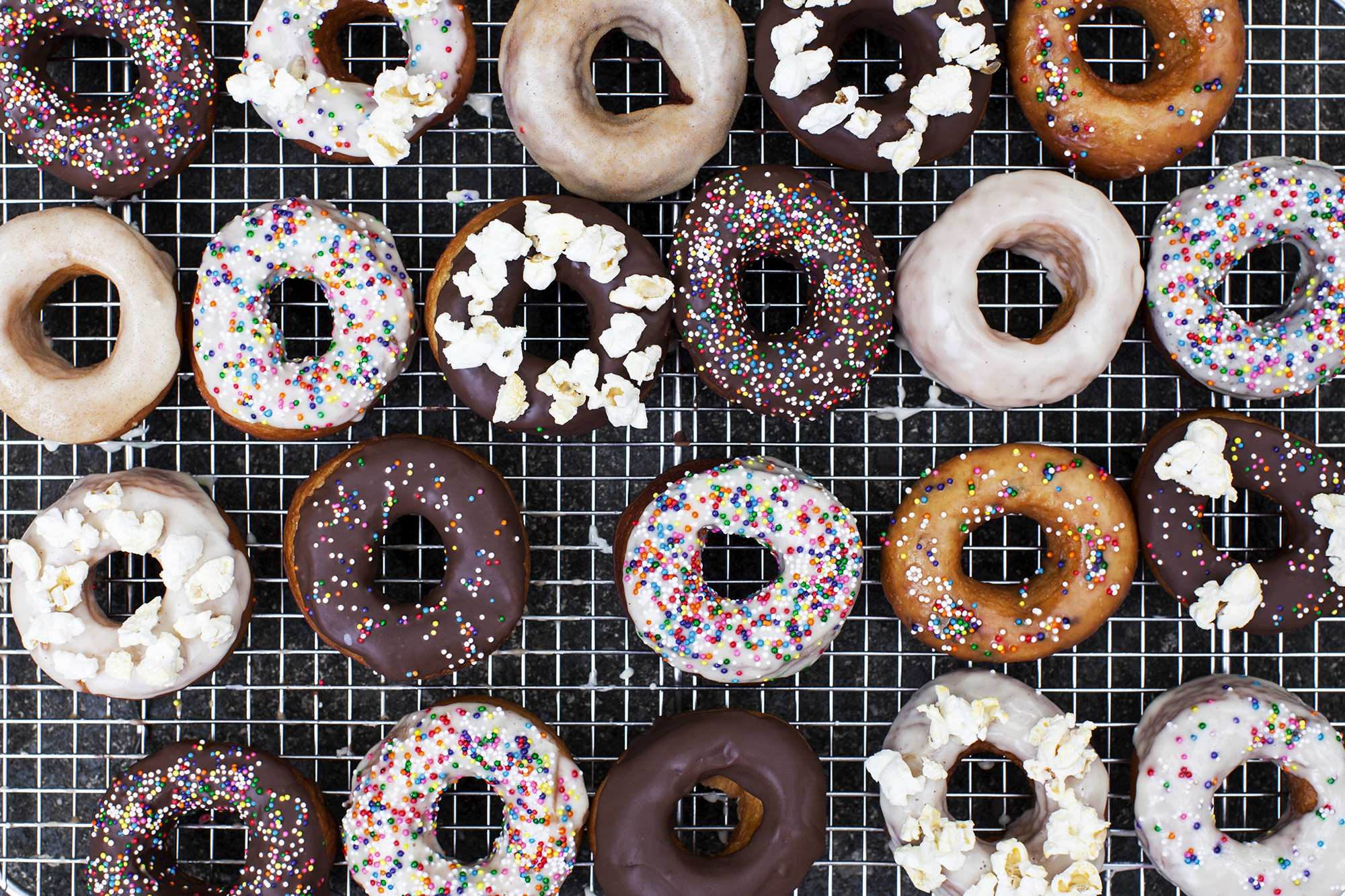 Recipe: Maple Glaze for Homemade Doughnuts
Ingredients
4 tbsp.

Maple Syrup

2 1/2 dl (1 cup)

Powdered Sugar

Salt to taste
Directions
Stir syrup and sugar together, salt to taste.
Dip the cooled doughnuts into the glaze and decorate right away with sprinkles of your choice.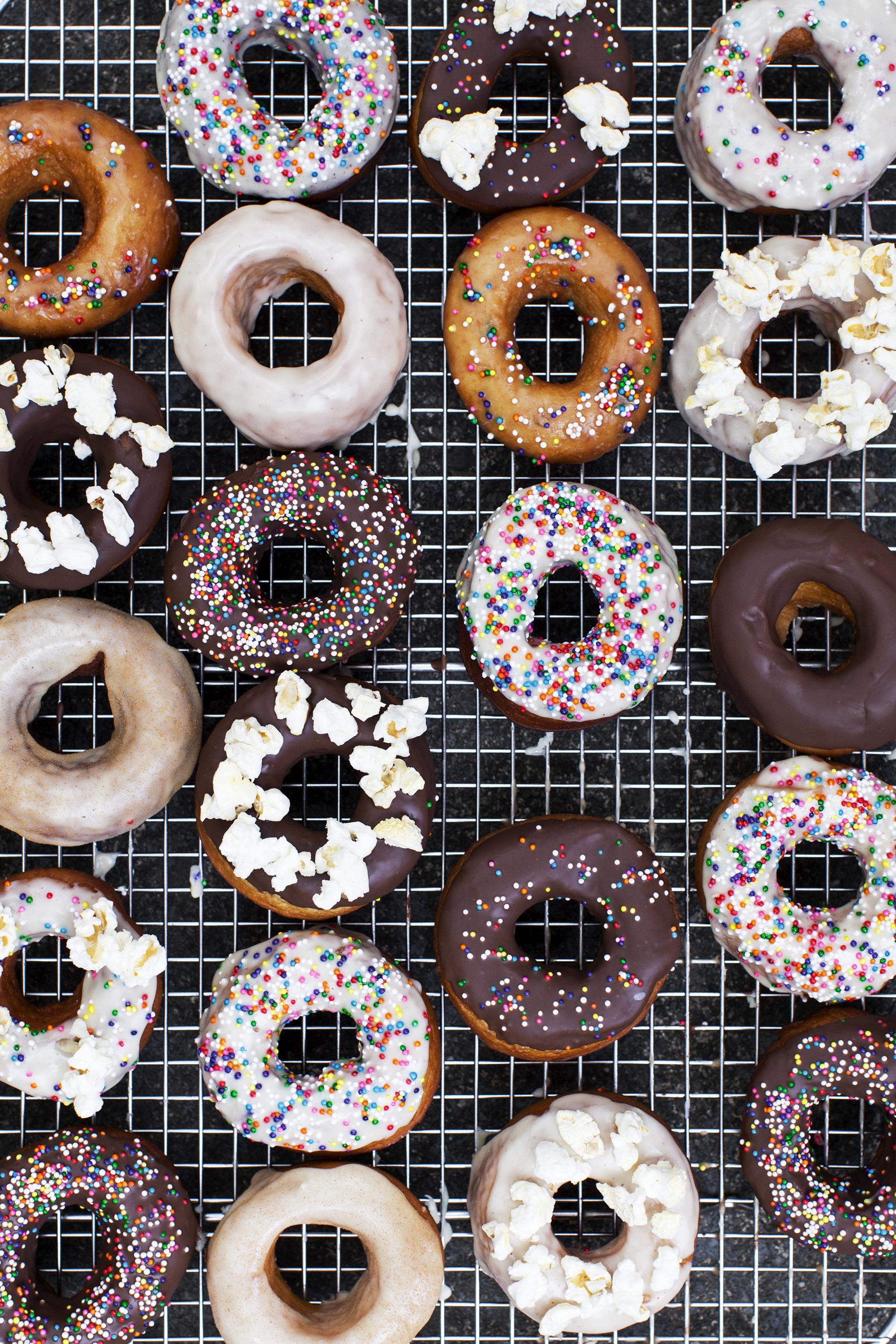 |
Published on May 12, 2017
|
Homemade Doughnuts Recipe
Comments - I would love to hear from you