Imagine eating a chocolate covered orange in the middle of pine woods while breathing in crisp and fresh winter air – that is exactly how this rich and aromatic chocolate cake tastes like. A serious holiday cheer for your taste buds!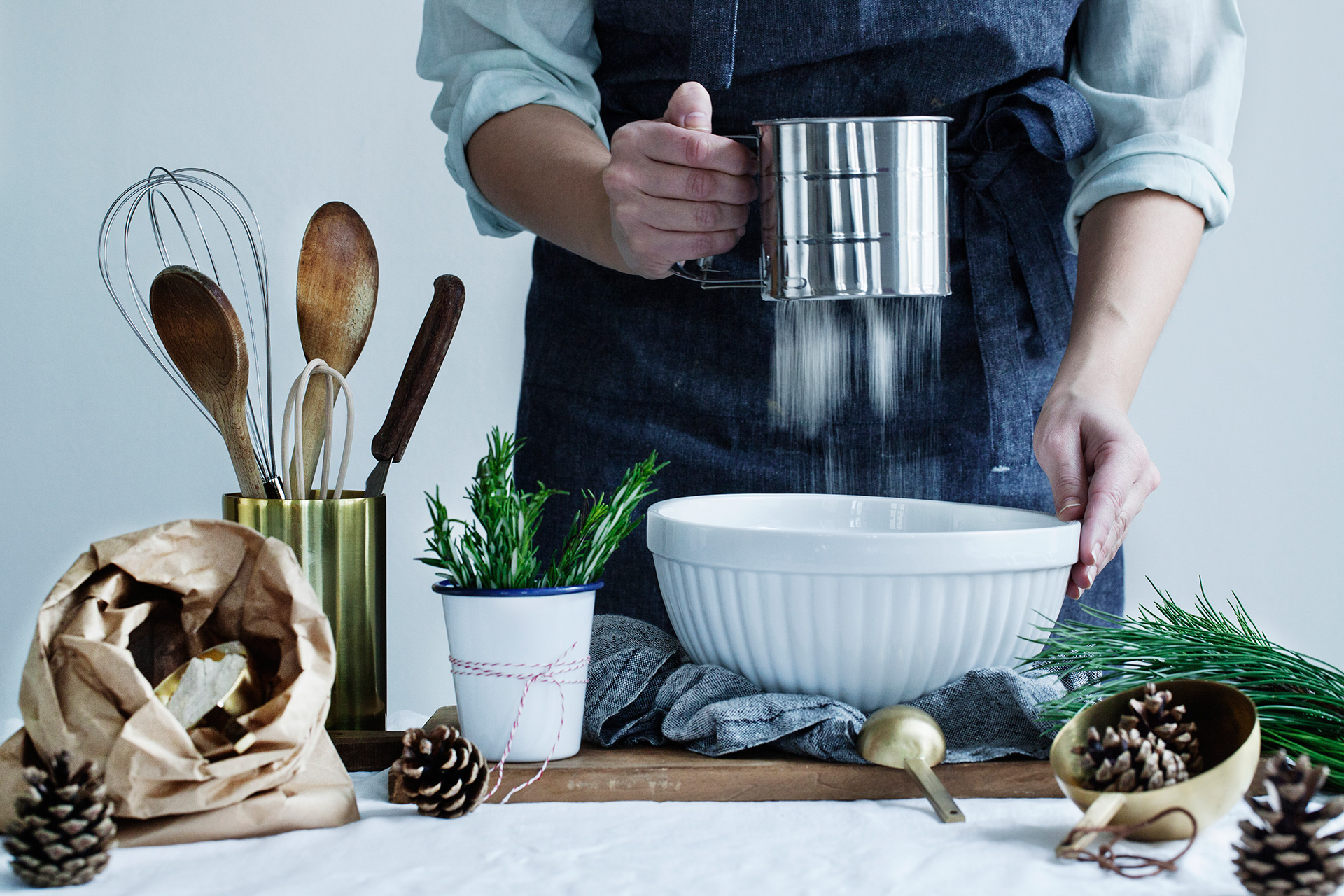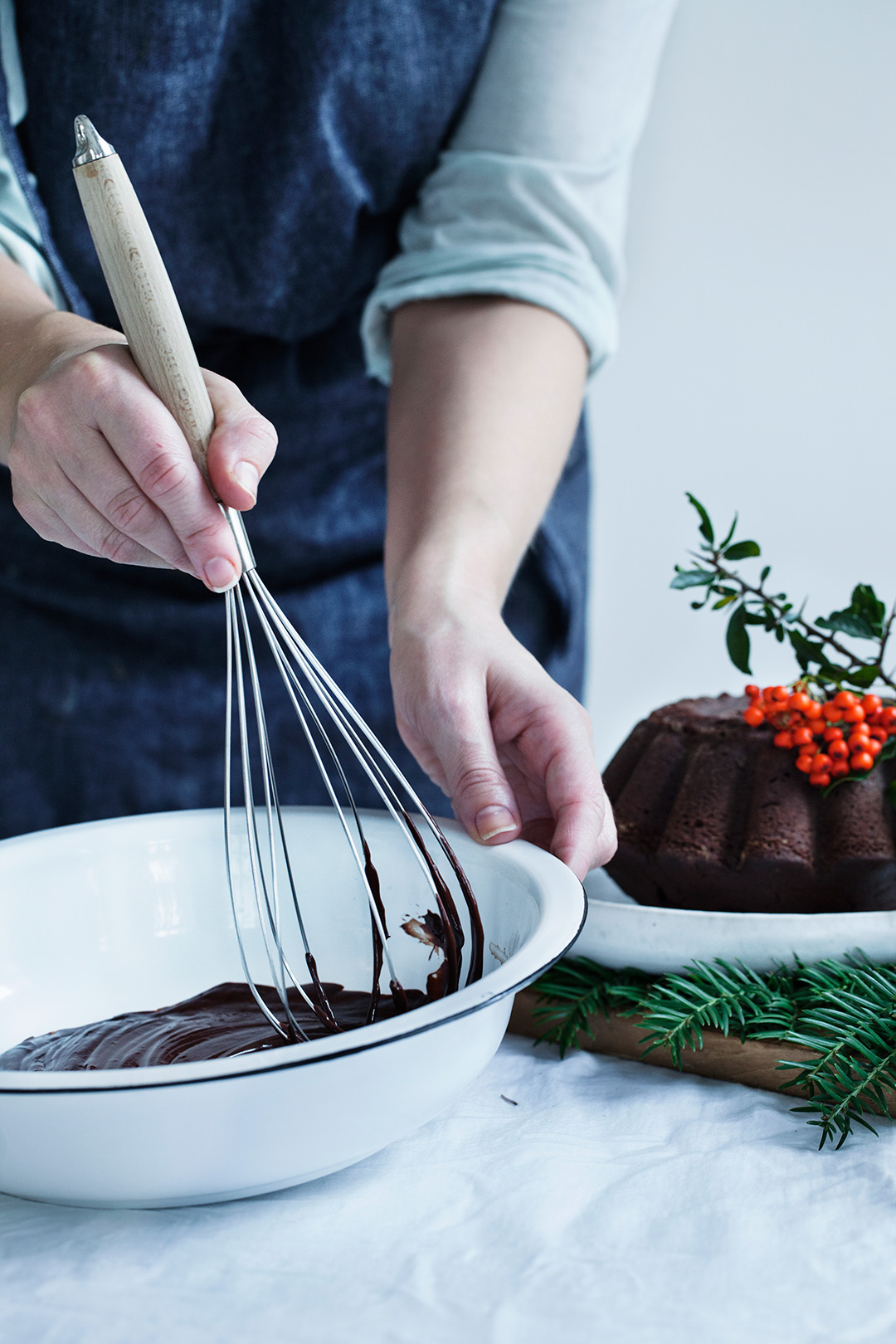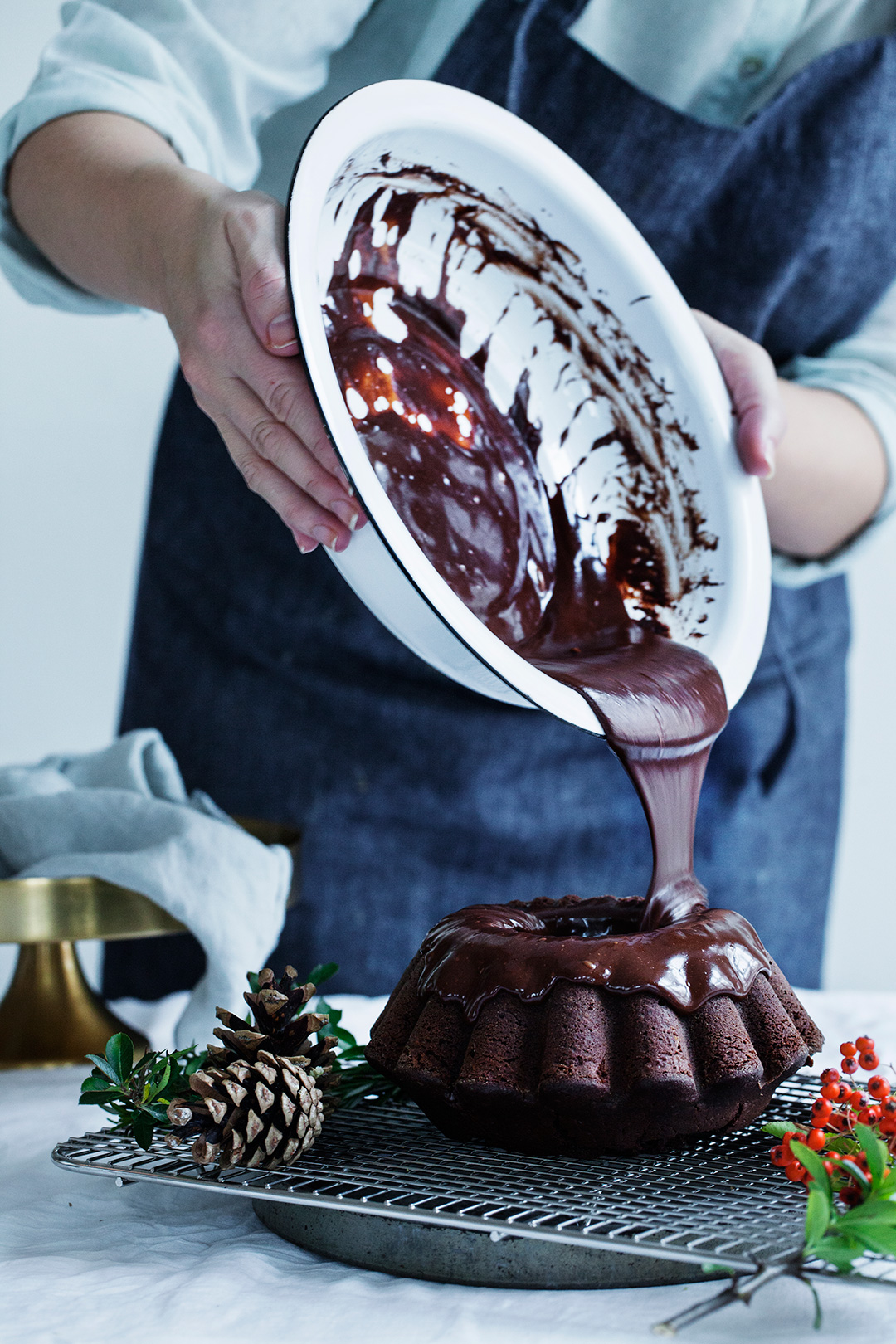 It is no secret that I love, love, love the Holidays and this Chocolate Bundt Cake sure brings the cheer to the table and a lovely fragrance of the holidays will decorate the air.
The silk smooth ganache adds a lovely layer of deliciousness and elegance to the cake. If you are planning to serve the cake as an afternoon snack for the kids, the ganache layer might be a little much and you can easily skip it, the cake itself is plenty flavorful and moist.
When making a bundt cake make sure to grease the pan thoroughly and dust with flour, especially if you are using an old pan – the dough sticks easily to the bottom and then the cake breaks when you flip it over.
Tip: Instead of discarding the rosemary used to infuse the butter, use it in the spice rub for your Thanksgiving turkey!
Tip: You can replace the orange juice with some orange liquor, such as Cointreau.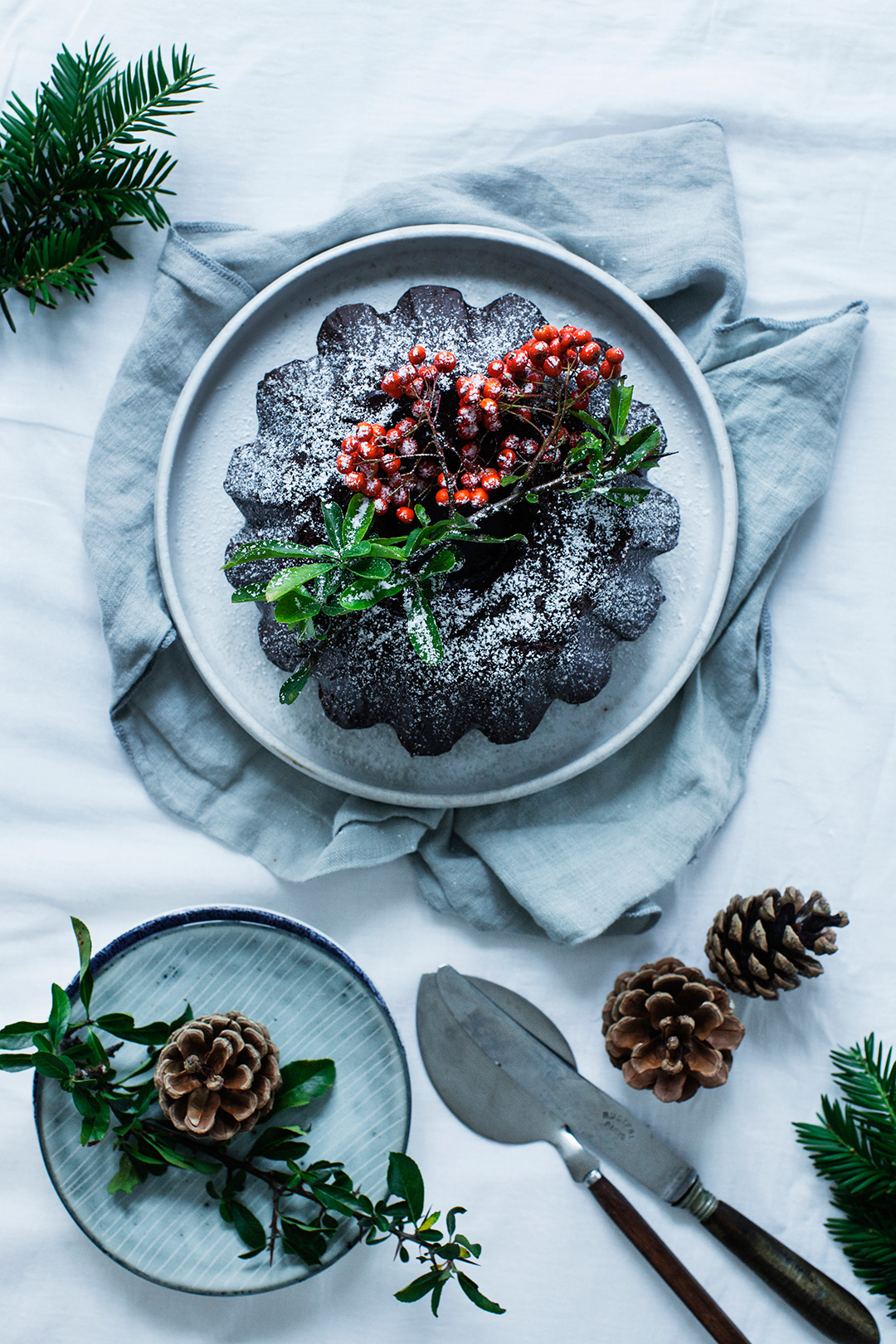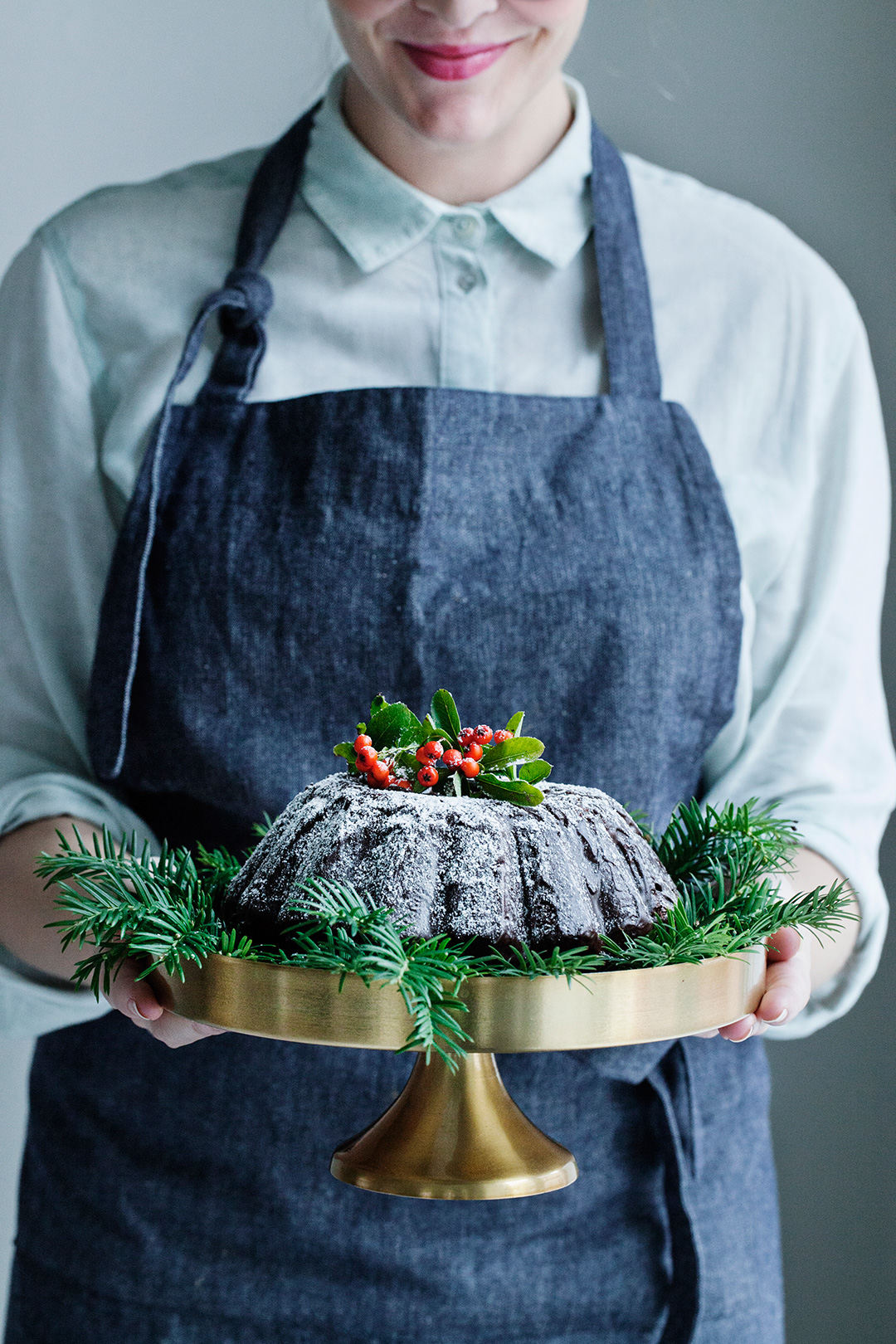 This Cake makes a perfect Thanksgiving Dessert. Feel like saving it for Christmas and serve a pumpkin based dessert on Thanksgiving? Try my Classic Pumpkin Pie, Gluten and Sugar-Free Pumpkin Cake, Pumpkin Pie Ice Cream or my Chocolate Whoopi Pies.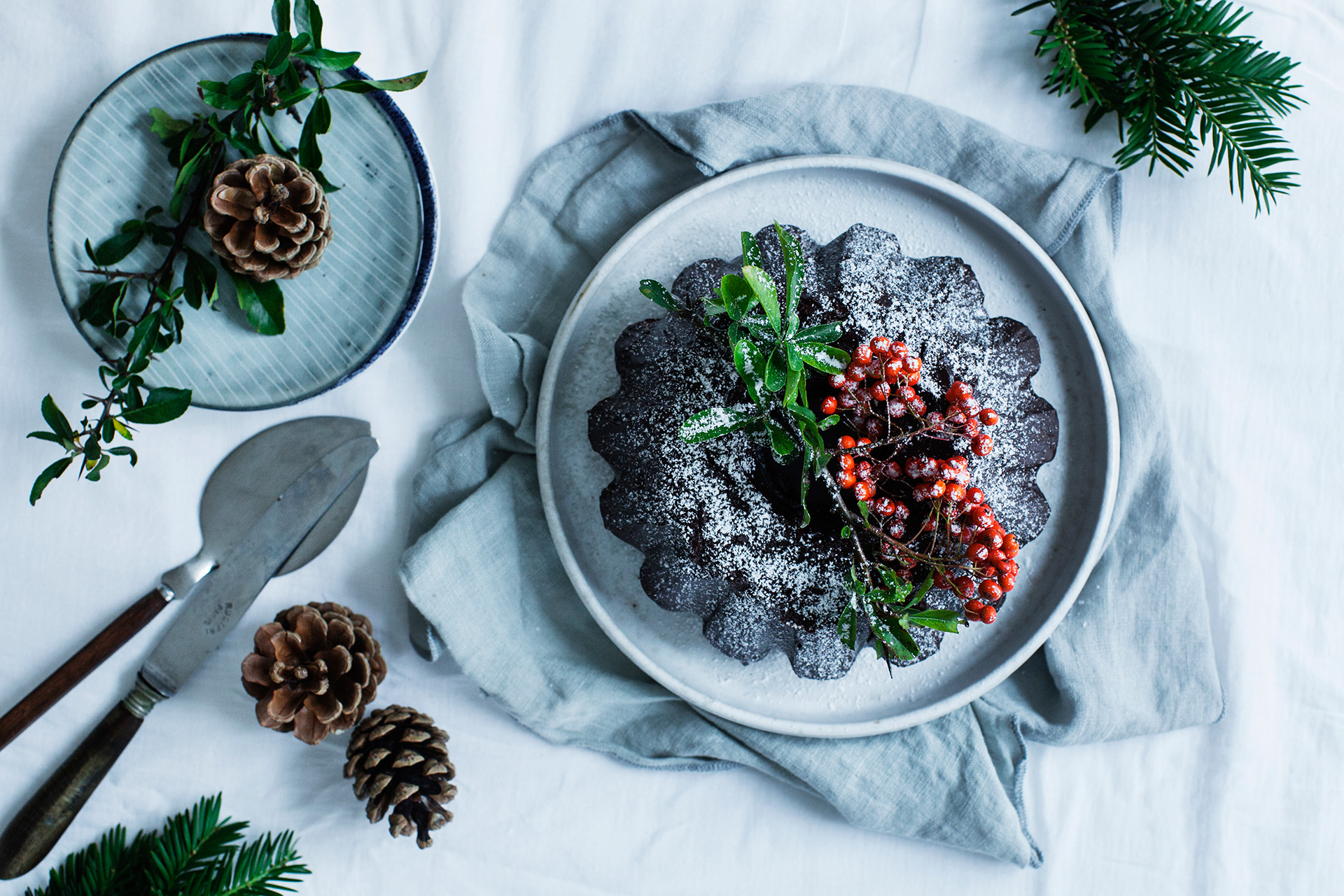 Recipe: Chocolate Bundt Cake
Tip:
Instead of discarding the rosemary used to infuse the butter, use it in the spice rub for your Thanksgiving turkey! If you have a smaller bundt pan than 12 cups, simply make 1/2 of the recipe

Ingredients
230 g (2 Sticks)

Butter

3 tbsp. (or 1 tbsp. dried)

Fresh Rosemary, chopped

280 g (2 1/4 cups)

All Purpose Flour

90 g (3/4 cup)

Unsweetened Cocoa

2 tsp.

Baking Powder

1 tsp.

Salt

280 g (1 1/2 cup)

Sugar

4

Eggs

2 dl (3/4 cups)

Sour Cream

2 tbsp

Fresh Orange Juice

1 tsp.

Orange zest

115 g (4 oz)

70% Chocolate, chopped
Directions
Grease a bundt pan (Size 12 cups) and dust with flour. Preheat the oven to 180°C / 350°F
Melt the butter over low heat, add the rosemary and let cook for 30 seconds. Remove from heat, cover with a lid and let steep for 30 minutes. Then strain and discard solids. (If the butter has hardened, heat it up again before straining.)
Meanwhile sift the dry ingredients, flour, cocoa powder, baking powder and salt into in a bowl. Set aside.
Whisk Sugar and Eggs together with an electric mixer until light and fluffy
Add sour cream, orange juice and orange zest and give the mixer a spin until homogenous.
Slowly add 1/2 of the dry ingredients. Stir. Then add the melted butter. Stir. Add the second half of dry ingredients. Mix until incorporated and smooth
Fold in the chopped chocolate
Pour batter into the greased pan and bake for 60 minutes or until a toothpick inserted into the center of the cake comes out clean.
When the cake has cooled pour the glaze over it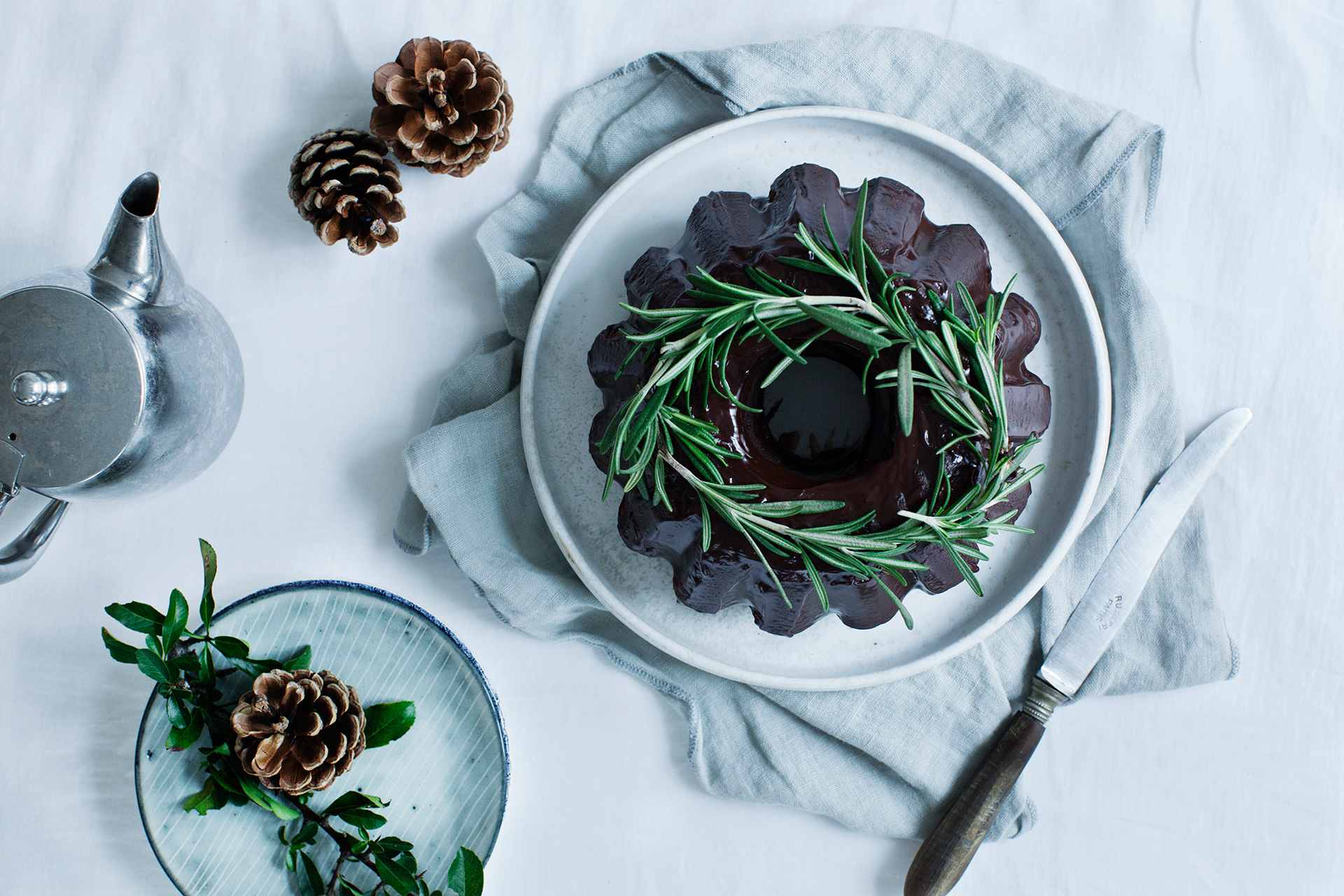 Recipe: Chocolate Ganache Glaze
Ingredients
115 g (4 oz)

55-70% Chocolate

1/2 tsp.

Salt

1,25 dl (1/2 cup)

Heavy Cream

1 tbsp.

Fresh Rosemary, chopped (or 1 tsp. dried)
Directions
Chop the chocolate and place together with the salt in a large bowl
Place cream and rosemary in a saucepan and bring to a boil. Take off the heat and let steep for 20 minutes. Then strain and discard solids. Reheat the cream to boiling, then pour over the chocolate. Whisk until smooth.
Pour over cake
|
Published on November 19, 2015
|
Chocolate Bundt Cake
Comments - I would love to hear from you